November 07, 2017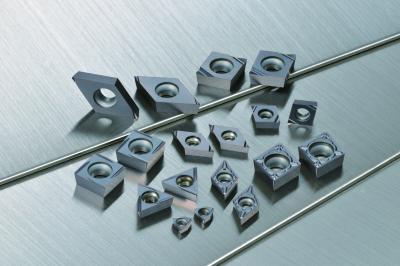 Sumitomo Electric Carbide, Inc.'s new AC1030U high-precision, small-parts machining grade combines "Absotech Bronze" PVD coating and a special substrate for superior wear- and chipping-resistance. In addition, the high-quality cutting edge of the AC1030U ensures excellent resistance against adhesion and microchipping for improved surface finishes, according to the company.
Newly developed "Absotech Bronze" PVD Coating includes a smooth anti-chipping layer for excellent surface finishes, a high-hardness/heat-resistance layer for improved wear resistance and high adhesion technology for superior peeling resistance. The tough new carbide substrate provides exceptional chipping resistance.
The AC1030U grade is recommended for the high-precision cutting of small parts consisting of soft steel, carbon steel, stainless steel, brass, cast iron and exotic material. The new FYS Chipbreaker offers improved chip control and crater wear in soft material machining, as well as reduced damage to the cutting edge with the AC1030U.
Application examples include stator shafts, valve bodies, structural steel pipes and sensor housings.
Related Glossary Terms
chipbreaker


chipbreaker

Groove or other tool geometry that breaks chips into small fragments as they come off the workpiece. Designed to prevent chips from becoming so long that they are difficult to control, catch in turning parts and cause safety problems.

physical vapor deposition ( PVD)


physical vapor deposition ( PVD)

Tool-coating process performed at low temperature (500° C), compared to chemical vapor deposition (1,000° C). Employs electric field to generate necessary heat for depositing coating on a tool's surface. See CVD, chemical vapor deposition.

wear resistance


wear resistance

Ability of the tool to withstand stresses that cause it to wear during cutting; an attribute linked to alloy composition, base material, thermal conditions, type of tooling and operation and other variables.