September 30, 2021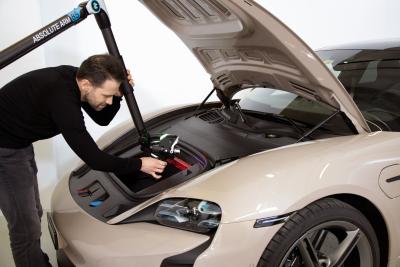 The Absolute Scanner AS1 is a multi-use, automation-ready scanning solution for today's busy shop floor. The modular blue laser line scanner is the first in the industry to operate with both laser trackers and portable measuring arms. The AS1 integrates Hexagon's unique SHINE (Systematic High-Intelligence Noise Elimination) technology so users can scan most any surface type at maximum speed and accuracy while SHINE's advanced algorithms does the hard work in the background.

The new-to-market AS1 is automation-ready today and tomorrow with a data collection speed of 1.2 million points per second, which is more than 3x faster than the previous flagship tracker scanning solution. This versatile data acquisition tool is ideal for any industry requiring quality 3D data within a 60 meter volume. For example in a submarine manufacturing facility, the AS1 can be used to scan large blocking structures up to and including a full hull using a laser tracker, then attached to a portable measuring arm for smaller, more discrete localized inspections. The scanning unit can be quickly mounted to the AT960 scanner using the Absolute Positioner AP21 and Hexagon's patented kinematic joint – the same repeatable mounting system existing on Absolute Arm systems. The scanner unit can be swapped between tracker and arm without the need for time-consuming realignment, setup or calibration.

"The AS1 is not only a game-changer in the scanning industry, but it defines the future of 3D scanning," states Joel Martin, Director of Portable Metrology, North America, Hexagon's Manufacturing Intelligence division. "The Absolute Scanner delivers the same high quality scan results whether it is paired with a portable Absolute Arm or an Absolute tracker. With a short learning curve, users can quickly apply the high-speed laser scanner to a broad array of manual and automated data collection applications. No other scanner today offers the cross-platform, large volume capability of the AS1 and its SHINE technology for full-speed, precision data capture ofmost any surface or finish. Simply put, there is no ceiling for the potential of this scanner. It is easy to learn, easy to use, and eliminates the need for multiple scanning devices and the associated maintenance costs."
The Absolute Scanner was developed from the ground up for smart manufacturing applications that require high-speed scanning within automated cells and assembly structures located in-line, near-line or in the quality room. The AS1 delivers scanning accuracy within 50 microns in a 60 meter volume, handheld or automated, with an Absolute Tracker AT960 laser tracker. For small to medium size parts or products, the scanner unit can be mounted to any current-generation Absolute Arm 7-axis system for scanning and hidden area inspection with scanning accuracy of 16 microns within a measurement volume from 2 - 4.5 meters.
Related Glossary Terms
calibration


calibration

Checking measuring instruments and devices against a master set to ensure that, over time, they have remained dimensionally stable and nominally accurate.

metrology


metrology

Science of measurement; the principles on which precision machining, quality control and inspection are based. See precision machining, measurement.