March 01, 2011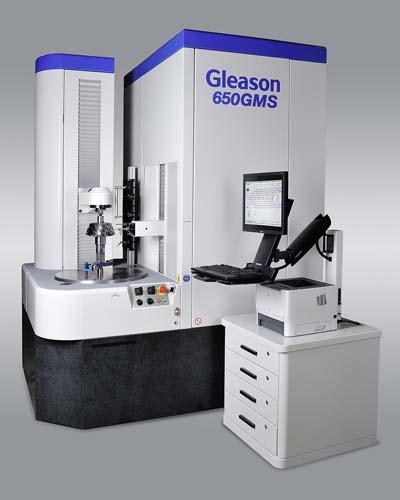 Inspection of gears as large as 650mm in diameter now can be performed up to 25 percent faster with the introduction of the Gleason 650GMS Analytical Gear Inspection System, part of a new product series from Gleason Metrology Systems Corp. Among the many new design features now available on the new 650GMS is the powerful GAMA 2.0 (Gleason Automated Measurement and Analysis), Windows object oriented applications software suite, which offers users not only significantly faster cycle times, but also a highly desirable menu-driven human/machine interface that greatly simplifies day-to-day operation.
GAMA operating software puts a host of features right at the fingertips of the operator in a simple, highly intuitive graphical user interface (GUI). The time it takes to create new part inspection programs and conduct a complete analytical inspection of even the most complex bevel and cylindrical gears is greatly reduced. In addition, GAMA is a true Windows NET application, making it fully compatible with the latest LAN and WAN networks, so users can easily interface inspection results with their gear design and production resources for corrective actions downstream.
The 650GMS is also equipped with the Renishaw SP80H 3-D scanning probe, available with various stylus sizes, configurations and extension lengths. The digital Renishaw probe provides a high speed, high accuracy measurement capability vastly superior to 3D analog, 1-D and 2-D probe used by other systems.
Among the most important features of the 650GMS are:
GAMA 2.0 suite of software with improved cycle times, with inspection programs for external and internal cylindrical, spiral bevel and straight bevel gears, as well as worms, rotors and gear tools.
Probe travel: +/- 2.5mm in the Y and Z direction, +/- 1.5mm travel in the X axis. A fully digital 3-D scanning head, with 20 nm resolution.
A kinematic probe mount system, integral to a probe crash protection system. Automatic Probe Change (APC) systems for all models.
With a solid granite base, Meehanite cast-iron slide assemblies, linear drive motors and large-diameter heavy duty rotary table, the 650GMS is also designed and built to deliver exceptional accuracy and reliability for inspection of large workpieces up to 550 kg.
New Windows based .net architecture controller and IP54 rated cabinet, CE certified, featuring with more intuitive operator feedback and system interaction, and such features as drive indicator lights, feed overrides, fault code indicator and independent locking of any and all axes.
An ergonomically designed Remote Operator Pendant (patent pending) puts more power and information at the operator's hands, with touch-screen input, built-in camera, voice notes, telephony support for Remote Diagnostics and more.
In addition to more than 1,000 installed analytical gear inspection machines with products available to accommodate gears up to three meters in diameter, Gleason Metrology Systems also offers customers throughout the world's gear production industries a host of other products including functional gages, software, automation, calibration and other services, and an A2LA accredited Gear Lab.