March 13, 2018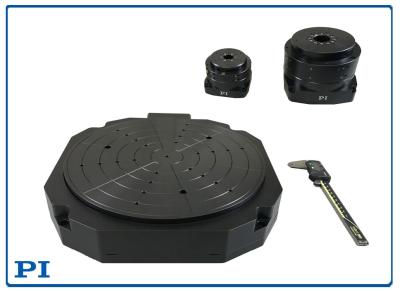 The new A-635/A-637 PIglide low-profile stages from PI (Physik Instrumente) have no rolling or sliding elements and deliver frictionless, noncontact motion, resulting in negligible reversal error, better wobble, eccentricity and velocity stability – suitable prerequisites for high-end industrial applications such as inspection, metrology, calibration and scanning, including cleanroom environments.

The PIglide RL rotary stages offer enhanced accuracy, flatness and wobble performance. Featuring 3-phase, low-cogging slotless torque motors with velocity to 500rpm and optical encoders, these stages provide outstanding performance such as 0.0015µrad resolution, ±2µrad bidirectional repeatability and absolute accuracy of ±6µrad (with error compensation and ACS motion controller). Geometric performance is also excellent with 50nm flatness, ±50nm radial runout and 1µrad wobble.
Available in two motion platform diameter sizes of 200 or 300mm, various options can be combined to create a solution ideal for point-to-point indexing or constant velocity scanning. These rotary positioners have a virtually unlimited life, there are no parts that wear or require maintenance.
Related Glossary Terms
calibration


calibration

Checking measuring instruments and devices against a master set to ensure that, over time, they have remained dimensionally stable and nominally accurate.

metrology


metrology

Science of measurement; the principles on which precision machining, quality control and inspection are based. See precision machining, measurement.