October 27, 2021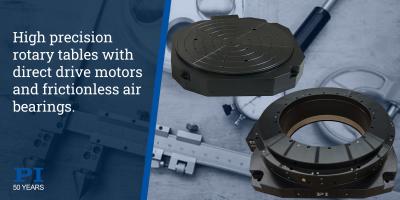 PI's A-630 series of low-profile rotary tables was recently extended by the new A-634 rotary stage with 150mm table diameter and the A-638 model with 350mm diameter. These high precision, high speed direct drive rotary tables are only 60mm tall and provide high speed to 3000 degrees/second. For transmitted light applications, the A-688 model with a large aperture is available.
Large Aperture, High Speed, High Precision, Maintenance-Free Performance
As all of PI's direct drive air bearing rotary tables, the A-688 high precision stage is also equipped with absolute measuring feedback encoders for closed loop position control. They provide resolution to 0.0015µrad (0.00003 arcsec), and flatness and eccentricity as low as 175nm and 300nm, respectively.

Direct Drive Torque Motors for High Acceleration, Velocity and Improved Performance
The rotary tables use low-cogging frameless and slotless torque motors to enable this excellent geometric performance. Different designs allow use in horizontal, vertical or any orientation. Air bearings guarantee a virtually unlimited service life with no wear, and zero required maintenance. As with all other PI linear air bearings and stages, the rotary tables are clean room compatible and requires no lubrication. For transmissive light applications, the A-688 direct drive rotary table with large aperture is available.

Closed-Loop Motion Controller
The highest motion performance is achieved with PI's A-800 series of EtherCat-based, high precision motion controllers, ideally suited for closed-loop control of the rotation tables. Advanced algorithms are available to deal with changing load conditions and to suppress external disturbances.
Advantages of Rotary Air Bearings and Air Bearing Tables
Air-bearings have no mechanical elements such as rollers or slides, and deliver frictionless, non-contact motion, resulting in negligible reversal error, better flatness, and minimal wobble and eccentricity. All these are ideal prerequisites for applications such as inspection and metrology, calibration, and scanning of high-end parts (i.e., infrared and precision optics, turbine blades, shafts and bearings) in industries like aerospace, aircraft, automotive, semiconductors, and photonics.
Related Glossary Terms
calibration


calibration

Checking measuring instruments and devices against a master set to ensure that, over time, they have remained dimensionally stable and nominally accurate.

metrology


metrology

Science of measurement; the principles on which precision machining, quality control and inspection are based. See precision machining, measurement.