September 01, 2014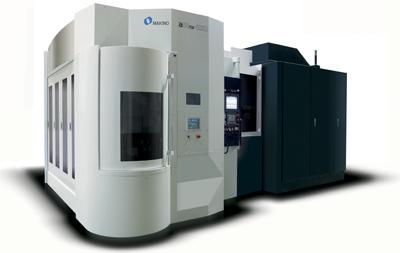 Manufacturers of medical, aerospace, prototype and complex multiface parts have long understood the positive impact that 5-axis machining can have on productivity and quality, simply by consolidating operations. Makino's a51nx-5XU 5-axis horizontal machining center reportedly raises these capabilities to a new level, building on the quality, durability and reliability of the nx-series next-generation horizontal machining platform. With a newly designed 5th-axis table and work-pallet magazine, this new machining center enables manufacturers of complex parts to obtain the high levels of utilization and efficiency.
"When looking for a small 5-axis machining solution, companies are typically limited to single-pallet-load vertical machining centers," said Dave Ward, horizontal product line manager at Makino. "The a51nx-5XU stands apart with its horizontal orientation, integral cast 5th-axis table and integrated workpiece automation. Together, these features provide for a highly productive, highly reliable multi-axis machining solution that eliminates recutting of chips, stack-up errors and challenges of 5-axis part loading. It's the perfect blend of capabilities for the manufacturing of rotating cutting tools, aerospace, medical and prototype components."
The linear X, Y and Z axes of the a51nx-5XU are built from the same proven structure as Makino's a51nx horizontal machining center. Its rigid bed casting with three-point leveling system provides a solid foundation for all critical machine components. A tiered-column design redirects machining forces and resists deflection even high in the Y-axis. These features are further complemented by high-performance linear guides, for long-term reliability. Altogether, the a51nx-5XU design offers dynamic stiffness and exceptional vibration management for the highest degree of cutting stability.
With increasing demand for small-part 5-axis machining, many companies are adding aftermarket 5th-axis rotary tables to 4-axis machining centers. However, these 5-axis retrofits frequently offer less rigidity and pose several challenges in cable interface management. The a51nx-5XU avoids these issues with a single casting design that houses and integrates the B- and C-axis' twin direct-drive motors. This single-piece casting provides ideal rigidity and a minimized profile that reduces interference between the spindle and worktable. All cables are concealed to the roofline of the machine's splashguard and can be easily accessed and managed outside of the machining area. The a51nx-5XU rotary table design eliminates the stack-up errors, loss of rigidity and cable management challenges common to many table-on-table designs.
The design of the large direct-drive motors within the B and C axes enhance the productive capabilities of the a51nx-5XU, providing rapid traverse rates of 75 rpm and 150 rpm to minimize non-cut times. Jacket cooling of the direct-drive motor stators and bearing perimeters eliminate all risk of thermal deformation to help maintain repeatable, high-accuracy performance with exceptional quality. The C-axis also benefits from a BT-style 50-taper Big Plus (BBT50) interface and clamping mechanism, which provides location and clamping of the workpiece within the 5-axis machine envelope.
Traditionally, one of the biggest challenges associated with 5-axis part production has been automated capabilities. This is why Makino designed the a51nx-5XU with a unique work-pallet magazine (WPM) that simplifies pallet changes in horizontally oriented 5-axis applications, and facilitates unattended operation for more value-added labor demands.
The WPM takes the place of a traditional horizontal pallet changer, providing manufacturers with automated load/unload capabilities for maximum machine utilization. This technology follows a similar design to that of Makino's matrix tool magazine, ensuring quick and reliable transfer of workpieces between magazine and machine worktable. The standard WPM offers storage capacity of 22 different workpieces with sizes up to 300mm in diameter by 300mm tall. An optional, larger capacity WPM provides storage of up to 58 workpieces with diameters up to 200mm. Parts are mounted directly to the 50-taper dual-contact tool holders (BBT50) and stored in the WPM matrix. This capability makes the a51nx-5XU an ideal solution for continuous, unattended manufacturing in both high-mix, low-volume and low-mix, high-volume production environments.
The WPM system includes a dedicated work-setting station (WSS) for loading and setup operations, providing convenient and ergonomic operator access. A nearby work data management panel allows operators to process data defined per pallet and manage work schedules. Priorities can be set and changed for each pallet, helping to accommodate for engineering changes or urgent one-off part orders. For advanced levels of scheduling control and machine networking, the a51nx-5XU can also be equipped with Makino's MAS-A5 control system.
Additional Products from Makino Inc.