March 12, 2012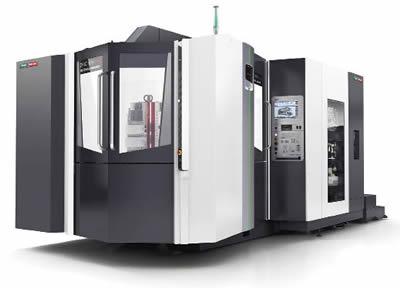 The new 5-axis DMC 60 H linear horizontal machining center from DMG/Mori Seiki USA Inc., Hoffman Estates, Ill., (www.dmgmoriseikiusa.com) is for production runs. It offers positioning accuracy of less than 4µm with repeatability of less than 6µm and features linear drives for 1g acceleration and rapid traverse speeds up to 100 m/min. The HMC's tool magazine produces chip-to-chip machining times of 2.2 seconds. The standard version accommodates a maximum workpiece size of 800mm in diameter × 1,030mm and weight of 600 kg. A traveling column enables traverse paths of 630mm, 800mm and 850mm in the X-, Y- and Z-axis directions, respectively.
Related Glossary Terms
machining center


machining center

CNC machine tool capable of drilling, reaming, tapping, milling and boring. Normally comes with an automatic toolchanger. See automatic toolchanger.

rapid traverse


rapid traverse

Movement on a CNC mill or lathe that is from point to point at full speed but, usually, without linear interpolation.