January 21, 2016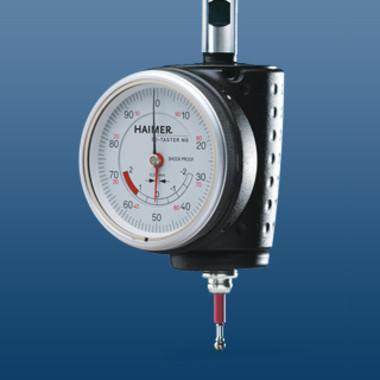 New 3D-Sensor New Generation from Haimer USA LLC features enhanced mechanics, a compact and easy-to-grip casing, and a large 1/100mm dial gauge with two easy-to-read hands, according to a Haimer USA blog post dated Jan. 12.
"These enhancements improve operations, eliminate restrictions to the working area and allow an extremely precise display of the spindle position," the company said. The new sensor is said to be capable of fast, "math-free" positioning of the spindle axis on the edges of the workpiece, and offers precision of 0.01mm when used with original Haimer probe tips.
The 3D-Sensor New Generation is said to be ideal for applications such as:
aligning spindles to workpiece edges and reference edges (X-, Y-, Z-axis),
setting zeros,
center borings and shafts,
measuring lengths and depths,
checking straightness and levelness of surfaces, and
aligning workpieces and vise.
"The accuracy is such that you are able to inspect your parts right on the machine," according to the company's blog post.
View a video of the new sensor in action.
Additional Products from Haimer USA LLC