December 17, 2019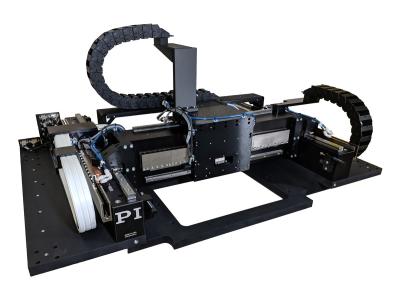 The A-351 gantry motion system is related to the A-341 hybrid air bearing gantry. Driven by linear motors and guided by precision mechanical linear bearings, the system provides high speed and accuracy, at a lower price compared to its air bearings-based brother. Advanced absolute linear encoders increase accuracy and reduce start-up time by rendering homing procedures unnecessary.
The integrated ironless linear motors eliminate cogging, providing smoother motion without vibration and better velocity control. The highest motion performance and easy integration with factory automation systems is guaranteed by an ACS-based motion controller with EtherCat connectivity.

For applications requiring a motorized vertical axis, several Z-stage options are available, with either screw-driven platforms or linear motors and pneumatic counterbalance. Other customizations, such as mounting platforms for vision systems, dispensers etc, are also offered.
Features of the gantry motion system include:
Standard XY travel ranges from 300x300 to 500x1,000 mm
Absolute encoders, 1 nanometer resolution
Z-stage options: linear motors or ball screws
Dynamic error mapping with ACS motion controller
High velocity: Up to 2 meters/second on the cross axis
Cable carrier option, e-chain
Water cooling option for high acceleration / high duty cycle applications
The A-351 overhead gantry motion system is available with a range of industry-leading ACS motion controllers / drives that offer superior servo performance, advanced control algorithms to improve dynamic performance and error compensation specifically for gantries, and a wide suite of software development tools.