April 17, 2019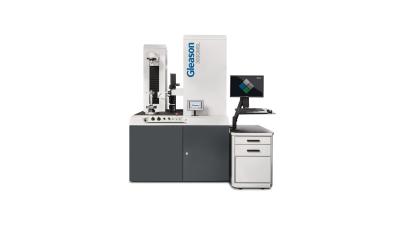 Gleason Corp. introduces analysis systems for gear inspection with its 300GMSL Multi-Sensor Gear Inspection System and the GRSL Gear Rolling System with integrated Laser Scanning. The versatile platform of Gleason's 300GMSL gear metrology system provides the classic tactile probing methods for inspecting conventional gear characteristics on spur and helical cylindrical gears as well as straight, spiral and hypoid bevel gears with a diameter of up to 300 mm.
In addition, the new inspection system allows noncontact laser sensor scanning of tooth flanks to support gear development. Complete topography data can be recorded far more rapidly than with conventional tactile probing, with comparable results, depending on the tooth flank surface.
The integration of laser scanning and associated 3D graphics with CAD interface considerably expand both the functionality and the range of applications for this machine platform. The new option makes the 300GMSL suitable for R&D applications, for both prototype and production parts or when reverse engineering is required. Further options include surface finish measurement or Barkhausen noise analysis to inspect grinding burn.
The 300GMSL Inspection System is also for rapid measurement of topography in regular production operation and satisfies the increasingly stringent requirements on gear inspection. Compliant, soft materials, such as plastic gears, can be inspected without sustaining damage. Multiple technologies combined in one single machine platform reduce operating costs, annual maintenance, certification costs and space requirements.
The GRSL Gear Rolling System with Laser allows in-process gear inspection and sets a new standard for throughput where high-speed, high-volume testing is required. It provides both, double flank roll testing, as well as analytical index and involute measurement on all teeth in a matter of seconds.
This new technology is available in manual, semiautomatic or fully automatic configuration depending on the needs of the customer. The index and involute measurements are analyzed using Gleason GAMA Gear Automated Measurement and Analysis Software which allows operators to see common charting between a GMS Analytical Inspection Machine and the GRSL Gear Rolling System. With GAMA, over fifty analysis packages are available for customers with all major industry standards such as AGMA, DIN, ISO, etc., along with customer specific analysis requirements developed specifically for the GAMA Platform.
This patent pending design is unparalleled in inspection speed and capability. It measures external cylindrical gears up to 250 mm in diameter in a range of .4 to 7.2 module. The double monitor option provides a simple view of ongoing trends in the high-speed inspection environment where one monitor can display results of several hundred parts inspected over time while the other can show real time results of the gear being inspected.
All GMSL and GRSL systems, like our entire GMS line of products, are able to export data using Gleason's closed-loop capability function. This functionality has been employed for many years in bevel gear production and has been adapted to the manufacture of cylindrical gears by Gleason for several years now. Closed loop enables a metrology system to send results directly to a Gleason production machine such as a power skiving, grinding or honing machine, to directly transmit data for auto-correction at the machine tool without the need for human intervention.
Related Glossary Terms
computer-aided design ( CAD)


computer-aided design ( CAD)

Product-design functions performed with the help of computers and special software.

grinding


grinding

Machining operation in which material is removed from the workpiece by a powered abrasive wheel, stone, belt, paste, sheet, compound, slurry, etc. Takes various forms: surface grinding (creates flat and/or squared surfaces); cylindrical grinding (for external cylindrical and tapered shapes, fillets, undercuts, etc.); centerless grinding; chamfering; thread and form grinding; tool and cutter grinding; offhand grinding; lapping and polishing (grinding with extremely fine grits to create ultrasmooth surfaces); honing; and disc grinding.

metrology


metrology

Science of measurement; the principles on which precision machining, quality control and inspection are based. See precision machining, measurement.