November 12, 2022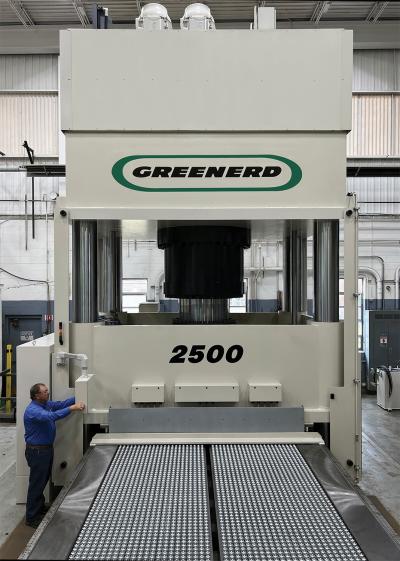 Greenerd Press & Machine Company has announced its latest 2500 Ton Compression Molding Press, with 10-foot square heated platens maintaining 500-degree (Fahrenheit) surfaces to +/- 5 degrees. This 2500 Ton Press is part of a seven-press order which is currently being built in their main facility. The press also features an innovative mold transfer system which significantly improves the ergonomic and safety dynamics for operators, and reduces the press idle time between cycles.
Greenerd offers unique hydraulic press application solutions for a range of industries, including compression/ composites molding. "To meet the demands of today's challenging applications, we are providing manufacturers with press solutions that are flexible, productive and reliable as well as often being quite large and complex," commented Greenerd Press & Machine Company's CEO, Mr. Jerry Letendre. "For even greater manufacturing efficiency, we are able to provide our hydraulic press customers with turnkey, state-of-the-art robotic and other product handling solutions."
Greenerd has a long tradition of designing, engineering and manufacturing customized hydraulic presses with product handling solutions. Greenerd's extensive line of hydraulic presses are available in a variety of styles ranging from gap frame and straight-side to die-spotting and forging presses, with unlimited size and tonnage capabilities.
Related Glossary Terms
composites


composites

Materials composed of different elements, with one element normally embedded in another, held together by a compatible binder.