April 28, 2023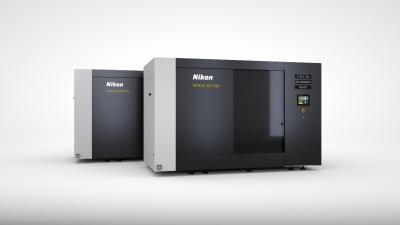 Following the launch by Nikon's Industrial Metrology Business Unit (https://industry.nikon.com) of the VOXLS 40 C 450 X-ray CT system, the first in a new generation of versatile, ergonomic inspection solutions, the company has announced that it intends to introduce two new, medium-size, 225kV models of similar design, later this year. The VOXLS 30 C 225 and VOXLS 30 M 225 broaden the product base to provide users, whether on the shop floor or in R&D, inspection services or academia, with more options to meet their needs, help them identify new business opportunities and raise efficiency.
Dr. Andrew Mathers, X-ray and CT Product Manager said, "Components and assemblies are becoming ever more complex and there is an increasing need for faster and more accurate inspection to support their manufacture. Our new quality control solutions have been designed to address this requirement. Typical applications for the VOXLS 30 C 225 include inspection of tall samples, for example lower density, additively manufactured metal components, small automotive castings, plastic injection molded parts and long pouch or cylindrical cells for lithium-ion batteries in electric vehicles."
Powered by a Nikon 225kV microfocus source, the innovative systems feature the company's Rotating.Target 2.0, which is unique in the industrial sector. It results in high resolution X-ray images to enable even the smallest defects inside an object to be identified quickly, easily, and non-destructively. Speed of operation is enhanced using Nikon's extensive CT acquisition technologies and reconstruction algorithms, making the systems ideal for automated inspection applications on the shop floor.
The cabinets house a metrology-grade, granite-based manipulator, and rigid steel towers. This mechanically and thermally stable construction together with the use of high precision motors and encoders ensure that precise, repeatable measurement data is obtained throughout the entire scan volume. A manipulator-interlocked glass door assists this process, as it allows the operator a clear view into the enclosure with the inner radiation safety doors open, while when they are closed, internal video cameras continue to provide excellent visibility. The motorized safety doors are bi-parting to allow fast opening or closing within four seconds, enabling fast sample exchange in a production environment.
Whereas the VOXLS 30 C 225 has synchronous source and detector movement, the VOXLS 30 M 225 is a bridge-style system with fixed source and detector height. It is designed to be equipped with an internal autoloader for holding multiple samples, so batches of components may be scanned and inspected without operator intervention. The result is a big increase in productivity by freeing up personnel for other duties and facilitating lights-out running. Both systems, in combination with external robotic handling and the Nikon Automation OPC UA Interface, are compatible with fully automatic, closed-loop inspection at high speed in a Quality 4.0 production line environment.
Breaking news: Nikon Corporation has just announced that its subsidiary Nikon Americas Inc ("NAI") has started the procedures for the acquisition of Avonix Imaging, LLC, USA, based in Minnesota, which will make Avonix a subsidiary of NAI.
This move will reinforce our position as market leader and greatly enhance the company's ability to deliver best-in-class, next-generation inspection solutions.
Related Glossary Terms
manipulator


manipulator

Arm or basic object-transferring device. Hands or gripping devices vary according to application, as do arm design and number of joints (axes or degrees of freedom). See degrees of freedom; effectuating device.

metrology


metrology

Science of measurement; the principles on which precision machining, quality control and inspection are based. See precision machining, measurement.

quality assurance ( quality control)


quality assurance ( quality control)

Terms denoting a formal program for monitoring product quality. The denotations are the same, but QC typically connotes a more traditional postmachining inspection system, while QA implies a more comprehensive approach, with emphasis on "total quality," broad quality principles, statistical process control and other statistical methods.