May 06, 2019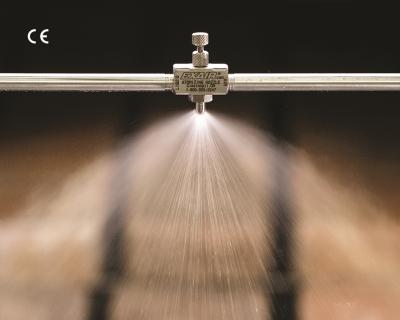 EXAIR's new 1/8 NPT small internal mix spray nozzles atomize fluids up to 42 gallons per hour. Internal mix atomizing nozzles mix the liquid and air inside the cap and produce the finest atomization. Internal mix nozzles can be used on liquids with a viscosity up to 300 centipoise.
Small internal mix nozzles are available in narrow angle round pattern, wide angle round pattern and flat fan pattern and are used to coat parts in containers, cool laminates, or apply paint and lubricant. They combine liquid and compressed air to create a coating of liquid that can be easily adjusted to meet the needs of your application.
With EXAIR's 1/8 NPT small internal mix atomizing nozzles, you can coat, cool, treat and paint a variety of products. Used with water or coolant, atomizing nozzles are an efficient way to evenly cool hot items in your automated process.
The stainless steel construction of these atomizing nozzles adds to their durability and corrosion resistance. EXAIR atomizing nozzles are also available in 1/4 and 1/2 NPT. A variety of flow patterns and liquid rates are available to meet your needs. External mix and siphon fed atomizing nozzles are available too, as well as patented no-drip versions of every atomizing nozzle. All models are adjustable, CE compliant and come with a five-year warranty.
Related Glossary Terms
coolant


coolant

Fluid that reduces temperature buildup at the tool/workpiece interface during machining. Normally takes the form of a liquid such as soluble or chemical mixtures (semisynthetic, synthetic) but can be pressurized air or other gas. Because of water's ability to absorb great quantities of heat, it is widely used as a coolant and vehicle for various cutting compounds, with the water-to-compound ratio varying with the machining task. See cutting fluid; semisynthetic cutting fluid; soluble-oil cutting fluid; synthetic cutting fluid.

corrosion resistance


corrosion resistance

Ability of an alloy or material to withstand rust and corrosion. These are properties fostered by nickel and chromium in alloys such as stainless steel.

flat ( screw flat)


flat ( screw flat)

Flat surface machined into the shank of a cutting tool for enhanced holding of the tool.