November 13, 2013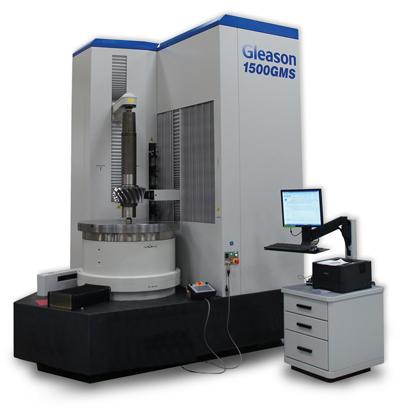 Gleason Corp.'s 1500GMS Analytical Gear Inspection System has been updated to deliver improved inspection speeds and offer many new features to meet the widest range of inspection tasks for gears and non-gears as large as 1,500mm in diameter.
Among the many new design options now available on the new 1500GMS is its ability to include surface finish measurement as part of the normal gear inspection process. Typically, this inspection procedure is performed offline with other dedicated, expensive equipment requiring time-consuming setups which also require additional periodic calibrations and preventative maintenance schedules, according to the company. Instead, the 1500GMS saves time by inspecting multiple traces on any number of gear teeth using a motorized rotary probe system adapted to the existing SP80H 3D scanning head. A range of surface finish inspection parameters are possible, with programming for the operation incorporated right into the 1500GMS' GAMA suite of applications software.
The new 1500GMS can also perform increasingly important Barkhausen noise testing to detect grind burn as just another routine step taken during the course of normal gear inspection. The 1500GMS uses proven Stresstech Rollscan 300 Analyzer technology integrated into the platform to save the time and setups usually required to perform Barkhausen off-line on other equipment, and eliminate the additional requirement of Nital Etching.
The new 1500GMS now supports non-gear metrology as well, through use of the Gleason-Capps prismatic measurement software platform, making it ideal for the inspection of any rotationally symmetrical workpiece that requires high accuracy inspection of features common to all types of gears. These include characteristics like bolt-hole patterns, tapered bores and their relationship to the gear faces, diameters, lengths, etc. This option is available in three levels of sophistication, from simple self-taught routines to full CAD based programming from full 3D models. This new capability greatly enhances the overall capability of the machine and allows the inherent accuracy of an analytical gear inspection machine to carry over into coordinate metrology applications.
These enhancements are available on all nine standard models of analytical gear inspection systems from Gleason Metrology Systems.
Related Glossary Terms
computer-aided design ( CAD)


computer-aided design ( CAD)

Product-design functions performed with the help of computers and special software.

metrology


metrology

Science of measurement; the principles on which precision machining, quality control and inspection are based. See precision machining, measurement.