Published
June 27, 2018 - 12:15pm
Zoller Inc. hosted its open house and Innovation Days event June 19-20 at the tool presetting and measuring equipment manufacturer's new facility in Ann Arbor, Mich.
---
View Video: From art to part at Zoller Innovations Days
---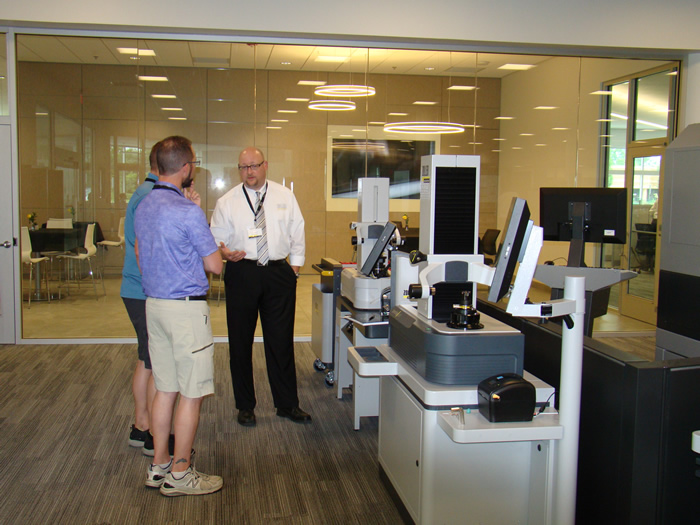 In the morning, the event included an introductory presentation by Alexander Zoller, company president, and the keynote presentation titled "Making Smart Factory a Reality" by General Manager Dietmar Moll. Moll noted the need to populate databases in the correct manner to avoid undesirable challenges and monitoring cutting tools at all times to replenish them at the right time.
The afternoon was filled with live product demonstrations and technical breakout sessions. For part of his session about the company's inspection product line, Werner Lueken, product manager for inspection machines, described the entry-level, 3-axis »smile« tool presetting and measuring machine. He said it is available with manual or CNC drive and has a gravity-fed spindle. Some of the company's other machines have the high-accuracy spindle »A.C.E.« with universal clamping.
The company reports that cutting tools must be carefully measured and optimally preset to manufacture high-quality components. And end users can only achieve this capability when the presetting and measuring machine works to the micron level. The »smile« machine includes components such as THK guides, Heidenhain measuring systems and Bosch/Festo pneumatics to reach that level of precision.
The "Art to Part" session demonstrated the company's networked offerings, from programming to tool management to presetting to data transfer to production. Matt Brothers, Industry 4.0 Technology Center manager, and Anthony Westfall, technical support engineer for Tool Management Solutions, provided the demonstrations.
Related Glossary Terms
arbor


arbor

Shaft used for rotary support in machining applications. In grinding, the spindle for mounting the wheel; in milling and other cutting operations, the shaft for mounting the cutter.

computer numerical control ( CNC)


computer numerical control ( CNC)

Microprocessor-based controller dedicated to a machine tool that permits the creation or modification of parts. Programmed numerical control activates the machine's servos and spindle drives and controls the various machining operations. See DNC, direct numerical control; NC, numerical control.

micron


micron

Measure of length that is equal to one-millionth of a meter.