Published
June 29, 2018 - 09:00am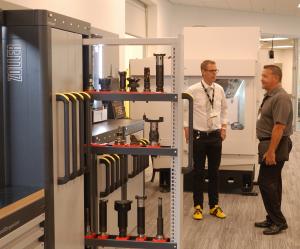 Article from ZOLLER Inc.
ZOLLER Inc. welcomed more than 150 visitors to its premier 2-day Open House & Innovations Days event, which took place on June 19th and June 20th at the company's new North American Headquarters and Industry 4.0 Tech Center, in Ann Arbor, Mich. Apart from offering customers, partners, suppliers and the press the opportunity to tour the
new state-of-the-art building, the key focus over the 2 days was demonstrating ZOLLER's 'Smart Factory" Solutions. The solutions, including tool presetting and measuring, tool inspection, software and automation solutions, offer seamless connectivity at each stage of the production process. ZOLLER's innovative, Industry 4.0 solutions allow
significant time and cost savings for companies of all sizes in diverse industries.
Among the highlights was the ZOLLER »smileCompact«, a fully manual tabletop tool presetter suited to a production environment that requires easy, quick measurements of standard tool parameters. In just seconds, the »smileCompact« ensures your tools are measured correctly and are therefore of the right quality to create accurate and quality parts prior to machining.
The ZOLLER »venturion« tool presetter was demonstrated during the event as well. The »venturion« is made from the finest components to ensure ZOLLER users have a reliable machine to preset and measure all their tools. With ZOLLER's A.C.E (All Clamping Elements) spindle, users enjoy a changeover accuracy of just 1 micron, ensuring consistent measurement results regardless of who is operating the presetter and ZOLLER's intuitive pilot 3.0 software makes measuring even the most complex tool geometries a simple task. The new »eQ« one-hand control handle allows for ergonomic, comfortable maneuvering of the optics carrier. The ZOLLER »venturion« provides faster tool measurement, greater flexibility, safer processes and the connectivity to prepare companies for Industry 4.0.
This was a popular feature throughout both days of the event.
Another machine highlight was the ZOLLER »redomatic« universal presetting, measuring and heat-shrink machine, a popular solution for companies in the automotive industry in particular. Users benefit from time savings because with the »redomatic«, the cycle time for shrinking and cooling a tool in total is less than 1 minute. With its unique »asza« automatic length adjustment, the »redomatic« offers precise heat-shrinking to nominal length accurate to +/-10μm.

ZOLLER »Smart Cabinets« were also a focus for the event and were demonstrated live several times over both days. Paired with ZOLLER TMS Tool Management Solutions software, the range of manual or automated cabinets allow for advanced inventory control to efficiently manage tools and accessories, including storage location, stock levels, tool assemblies, individual components and article characteristics.
Alexander Zoller, president of ZOLLER Inc., said: "As well as best-in-class tool presetting and measuring machines to suit all budgets, we specialize in providing total tool management solutions – our whole focus is on giving suppliers and manufacturers the power to make products better, faster and less expensively and to be seen as a critical
solution provider and conduit in that process. We achieved our aims for this debut event through securing quality
attendance, developing open opportunities and conveying new technologies to delegates. Visitors were very receptive to our innovative solutions and, thanks to the hard work of our employees, we're delighted to be able to say the 2 days were a huge success."
Technical Breakout Sessions
Alongside the keynote presentation from General Manager Dietmar Moll, which focused on "Making Smart Factory a reality," and live machine demonstrations, the event also featured technical breakout sessions.

Solutions for Tool Inspection: Werner Lueken, ZOLLER's product manager for tool inspection, gave presentations regarding the full range of ZOLLER's tool inspection product line including: »pomBasic«, »pomSkpGo«, »Genius 3s«, »smartCheck«, »hobCheck« and more.
»pomBasic«: Michael Stepke, ZOLLER Inc.'s product specialist for tool inspection was on hand to discuss the ZOLLER »pomBasic« and offer live demonstrations. The process oriented measurement machine's recent technological and hardware advancements were discussed at length.
Open Lab – TMS: Business Development Manager Michael Luksic offered visitors a unique chance to have hands on experience learning the basics of ZOLLER TMS Tool Management Solutions software. During the session, users were able to experience how TMS helps track tool assemblies, single components, store article characteristics and 3D models, and build setup sheets – all from a single source database.
Art to Part Demonstration: Industry 4.0 Tech Center Manager Matt Brothers and In-house Technical Support Engineer Anthony Westfall guided visitors on ZOLLER's Art to Part demonstration. The goal was for visitors to gain a better understanding of how all ZOLLER solutions tie together to offer more efficiency, higher quality and greater process reliability at each stage of the production process.

The event was a great opportunity for customers, partners and press to get a live look into the world of ZOLLER and gain a deeper understanding of how ZOLLER can help bring manufacturing companies up to the ever increasing demands of higher efficiency and accuracy in Industry 4.0. With such success in its debut, the ZOLLER Innovations
Days event will be back in 2019.