Published
June 20, 2018 - 12:30pm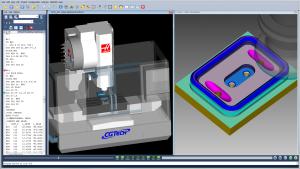 The 54th annual National Leadership and Skills Conference scheduled for June 25-29 in Louisville, Kentucky, is expected to draw more than 6,000 students, with a fraction of them competing to be named the best CNC milling specialist, CNC technician and CNC turning specialist in the nation.
"This is a great opportunity for students to see where their skill levels are compared with their peers," said Steve Arteman, technical support engineer at CGTech Inc., Irvine, California, the developer of Vericut CNC simulation and verification software.
For several years, the company has judged CNC machining at the event, which is organized by SkillsUSA, a partnership of students, teachers and industry professionals working together to try to ensure that the U.S. has a skilled workforce. The nonprofit provides educational programs, events and competitions that support career and technical education in the country's classrooms. Competitors at the June conference are high school and college students who recently won state contests. Those statewide winners qualify for the national event, with different brackets for high schoolers and college students.
"It's an excellent opportunity to connect industry and education," said Catherine Ross, director of services at the National Institute for Metalworking Skills, Fairfax, Virginia, which organizes and runs the CNC machining competitions at the conference. "These students have exciting futures ahead of them, often because they come from schools with dynamic, modern training programs that understand the importance of employer-educator partnerships."
The CNC categories feature a few common areas that competitors will be judged on: programming, which involves numerous industry partners; a mock job interview; process control; and a written exam. Every student will receive a scholarship from the Gene Haas Foundation, with the top three finishers in each category from high school and college receiving additional scholarships from $2,000 to $4,000 apiece. For the first time, educational institutions that send students will receive a financial award as well. All the payouts will total more than $200,000.
Arteman has been involved with SkillsUSA for years at the state and national levels as a teacher and a judge and said the competition fosters real-world skills.
"The parts that we do and program are going to range anywhere from automotive to aerospace," he said, "but the students are going to get a glimpse of what they're going to be doing for the rest of their lives if they stay in the trade. Every year, I'm impressed even more by their abilities in the computer age for CAD/CAM and CNC. What they've learned in school and what they can accomplish in these competitions is amazing. I've been in the CNC industry for 30 years now, and to see kids with the hunger is really exciting."
Ross said employers are starting to take note of the skills demonstrated at the annual event.
"Someone recently said SkillsUSA is like the NFL draft but for machinists," she said. "This is the place to be if you want the best for the next generation. These students won state-level competitions to qualify for nationals, so regardless of what place they take home in June, they are all highly desirable among employers."