Published
September 30, 2014 - 07:00pm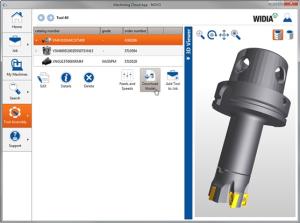 Widia, a Fort Mill, S.C.-based toolmaker, has launched its NOVO desktop and tablet application, which gives users on-demand delivery of cutting tool data and expertise for reduced product development and manufacturing lead times, according to the company.
"NOVO data represents real Widia tools and how they fit, function and perform over a variety of machining scenarios," said Bernie McConnell, vice president of Widia. "Importing NOVO makes CAD/CAM programs more functional and valuable because the tools fit and move as designed. Implementing NOVO makes estimating and process planning a breeze because it supplies entire assemblies and spare parts lists with 'best fit' functionality that otherwise takes hours of time finding in catalogs and product literature. NOVO empowers inventory management, purchasing and other vital shop processes because it is real expertise based on decades of development experience. It truly empowers shops to take on extreme challenges with extreme results."
"NOVO thinks like a process planner," said Thomas Long, head of the newly formed Virtual Machining RDE department at Widia. "It works from the feature back to the tooling strategy. In addition, each order number is tied to application data gleaned from hundreds of subject matter experts and decades of WIDIA experience. Request a part number and you also get pictures, assemblies, spare parts lists, as well as inserts that fit."
According to Long, NOVO assists shop personnel in a number of intuitive ways. It can help define machining features and reduce the product set to those that can do the job, taking into account constraint requirements such as material, tolerance and machining sequence for both single tools and multi-tools, and rank the results—based on knowledge-based rules—to best meet the challenges of the application as defined by the customer's operating environment and user preferences. If a customer already has a preferred tool and grade in mind, NOVO filters not only quickly select the products available to do the job, but give options on what cutting and adaptive items fit and also work with the selected solution.
In both cases, NOVO's Tool Configurator provides all CAD files and graphic support for all tool components and their assembly, and the Job Functionality option is a cloud-based repository linked to a user by a unique ID where tool lists can be stored for future use, editing, copying and sharing. These can be downloaded into standard report formats and include tooling commercial and dimensional data and weights, speeds and feeds and photo or CAD model images, according to the company.