Published
October 16, 2018 - 10:45am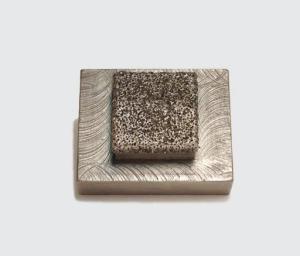 In addition to TIR (total indicator runout) is the dimension of the grinding wheel side flutter, runout, roundness and tolerance. This is accomplished by truing, dressing, forming and conditioning.
Conventional and ceramic precision abrasive grinding wheels are trued by diamond single points, hand-set diamond clusters, diamond form blocks or rolls, blade tools, or any other means of truing, to bring the precision abrasive grinding wheel surface to within 0.0005" TIR straight and formed.
The same goes for diamond grinding wheels. CBN grinding wheels are different. They must be trued to within 0.000040" TIR straight or with a form. The reason being is that in precision grinding hard metals the swarf becomes threadlike chips and can only be made to grind correctly if the fine metal threads are formed consistently. This requires a lubric grinding coolant (8:1 mix) or with straight oil. Keep your infeeds in dressing down below 0.001" to avoid crushing the bonds.
Diamond coated dressing blocks have been designed for optimal performance on conventional and ceramic grinding wheels. Ideal for roughing and finish dressing.
A PB1 diamond-coated dressing block is 1" square for truing abrasive wheels 8" in diameter and smaller. (Shown)
An RB1 diamond-coated dressing block is 1 1/2" in diameter for truing abrasive wheels 8" diameter and larger.