Published
August 03, 2020 - 11:30am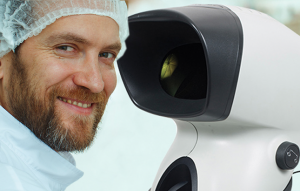 Vision Engineering offers microscope trade-in special
Vision Engineering Inc., a manufacturer of optical and digital inspection and non-contact measurement systems based in New Milford, Connecticut, in June launched a microscope trade-in program for North America. Set up for a trade-in on any microscope, the program in return offers participants a 25% discount on Mantis eyepiece-less microscopes until Aug. 31.
The program was developed to help manufacturing companies upgrade their existing microscopes for an eyepiece-less microscope as they plan workspace and equipment use in order to adhere to new health and safety guidelines, according to a company news release.
The Mantis range of stereo microscopes can be shared among users without them coming into direct contact with the system. Safety goggles and masks can be worn when using the eyepiece-less systems without disrupting productivity and the field of view.
"As a company we share in the challenge of making the workplace safer for our valued employees," said Richard Nagel, vice president of sales and marketing for Vision Engineering. "By offering our customers this opportunity to invest in technology that can make their inspection tasks safer, we hope to help in some small way."
For more details about the microscope trade-in program, contact Vision Engineering at 860-355-3776.