Published
January 31, 2023 - 10:00am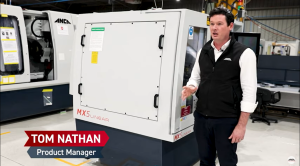 What do tool and cutter grinders and buildings have in common? The importance of having a solid foundation.
In the video below, ANCA product manager Tom Nathan details how one of the most important, but often overlooked, components of achieving good accuracy and repeatability when grinding a cutting tool is the base.
"When you build a house," he said, "the most important thing is to have a stable foundation. And, for machine tools as well, having a really stable foundation is paramount to having a stable production tooling machine."
Since 1991, ANCA has been using the polymer base technology dubbed ANCAcrete that forms the stable foundation base of all ANCA machines. Nathan explains that the benefits of polymer concrete and we explain that polymer concrete by its very nature has a high thermal mass, so our bases are good at absorbing a lot of heat.
"Our bases are really good at absorbing a lot of heat and that means that throughout the production processes, their growth and contraction is very, very well controlled … which means that the process is very, very stable."
The second benefit of the polymer concrete is that when it was designed over 20 years ago, the company made it so the mix itself mimics closely and as the machines heat up and cool down, "we are able to control the expansion and contraction of the machine," said Nathan.
Related Glossary Terms
grinding


grinding

Machining operation in which material is removed from the workpiece by a powered abrasive wheel, stone, belt, paste, sheet, compound, slurry, etc. Takes various forms: surface grinding (creates flat and/or squared surfaces); cylindrical grinding (for external cylindrical and tapered shapes, fillets, undercuts, etc.); centerless grinding; chamfering; thread and form grinding; tool and cutter grinding; offhand grinding; lapping and polishing (grinding with extremely fine grits to create ultrasmooth surfaces); honing; and disc grinding.