Published
May 08, 2018 - 04:00pm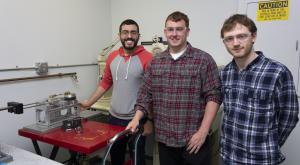 Article provided by Mahr Inc.
Mahr Inc. has partnered with the University of Rhode Island's (URI) engineering department to offer students the opportunity to work on real-world engineering and manufacturing problems. As part of the URI capstone project, students in their senior year are selected to take part in a year-long capstone project focused on automation of submicron precision finishing of ring gages. During the fall semester, students examine the problem from a theoretical perspective, with the spring semester centered around hands on application of theory.
Mahr's participation in the capstone program introduces students to the basic principles behind precision engineering and manufacturing, and exposes students to multiple aspects of the manufacturing environment such as design engineering, manufacturing engineering, operations/process improvement and production work. Students are given the opportunity to receive training on high precision measuring equipment and practices. These URI seniors are then able to see their academic learning come to life in a professional setting, with access to cutting edge facilities such as environmentally controlled rooms.
Mahr's involvement in the project is led by Don Foisy, director of operations, and Pat Nugent, vice president of product management. Automation of submicron precision finishing of ring gages presents challenges because the current process uses costly, high-precision, CNC grinding equipment. To maintain precision tolerance levels throughout a large variation of sizes, the process still has to be finished individually by hand, making it time consuming and highly dependent on operator skill level. The students have been tasked with finding methods to eliminate or reduce the influence of operator skill level to create consistency and predictability, reducing rework and product variation.
"Our collaboration with the URI engineering department is a great way for the Mahr team to help develop the Rhode Island workforce and expose local talent to opportunities in our state," Foisy said. "We are excited to continue to provide promising students with access to our facilities and personnel so that they can grow as future professionals."
Related Glossary Terms
computer numerical control ( CNC)


computer numerical control ( CNC)

Microprocessor-based controller dedicated to a machine tool that permits the creation or modification of parts. Programmed numerical control activates the machine's servos and spindle drives and controls the various machining operations. See DNC, direct numerical control; NC, numerical control.

grinding


grinding

Machining operation in which material is removed from the workpiece by a powered abrasive wheel, stone, belt, paste, sheet, compound, slurry, etc. Takes various forms: surface grinding (creates flat and/or squared surfaces); cylindrical grinding (for external cylindrical and tapered shapes, fillets, undercuts, etc.); centerless grinding; chamfering; thread and form grinding; tool and cutter grinding; offhand grinding; lapping and polishing (grinding with extremely fine grits to create ultrasmooth surfaces); honing; and disc grinding.

tolerance


tolerance

Minimum and maximum amount a workpiece dimension is allowed to vary from a set standard and still be acceptable.