Published
April 10, 2019 - 02:15pm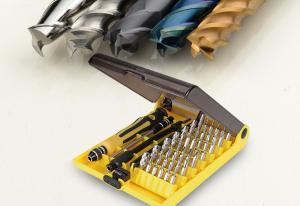 Industry 4.0 is making inroads into several industrial sectors, creating massive demand for measurement and inspection technologies offering superior reliability precision, and stability. There has been a quantum leap in growth of the global industrial landscape, resulting in higher demands for high-quality precision measuring tools for reduced turnaround time and costs. Rising end user focus on quality-orientated operations as a key to high competitiveness is fuelling investments in the precision measuring tools market. Sensing the importance of a synchronized production as an essential aspect in optimal productivity, operators of manufacturing industries are willing to spend on better-than-the-rest precision measuring tools more than ever before.
While manufacturing space continues to be at the forefront of demand for precision measuring tools, medical and semiconductor industries are following suit and seeking precision measuring solutions of highest industry standards. In parallel with the ever-evolving demands, manufacturers of precision measuring tools are working on improving product reliability of their offerings. In addition, the manufacturers are also focusing on speeding up response time of the precise measuring tools and eliminating the risk of backlash problems, which, in turn, will help them to boost end user confidence and repeat sales.
The top five trends shaping growth of global precision measuring tools market are:
Digital Caliper Gains Limelight and Overshadows Dial and Vernier Variants
Though use of digital calipers is at its nascent stage, their popularity and subsequent demand is growing enormously. Unmatched accuracy offered, as compared to dial and vernier calipers, continues to be one among the unique selling propositions of digital calipers across various end use ecosystems, including engineering, research laboratories and manufacturing. Digital calipers comprise of multiple features and simplified interfaces, thereby making it a hassle-free process for end users to access, use and read.
Growing need for elimination of errors is one of the chief aspects making digital caliper a force to reckon with in the precision measuring tools market. Unlike the dial calipers, digital calipers don't comprise of moving parts in the readout and offer immense scope to seamlessly switch between inches to metric units. High durability and unparalleled efficiency make digital calipers a suitable fit for challenging applications, creating new revenue-making opportunities for companies in the precision measuring tools market.
Demand for Noncontact Precision Measuring Tools Reaches New Heights
End users are demonstrating strong interest in noncontact precision measuring tools offering maximum productivity and traceability. Noncontact/laser scanners have an edge over the conventional precision measuring tools, owing to their ability to offer fast and accurate results with minimum uncertainties. While accuracy continues to be the key selling point of laser scanners, they fall just short of the quality delivered by their hard-probing counterparts. However, their easy-to-use interfaces and optimal accuracy makes them a suitable fit for maximum of the moldmaking applications. Moreover, laser scanners are capable of capturing the point cloud data of extremely contoured models, thereby emerging as preferred for precision measuring among end users.
Demand for laser scanners are mainly originating from several end-use industries, including automotive, manufacturing, engineering product design and aerospace. Rising focus on reverse engineering and faultless precision measuring across multiple industries is bringing importance of laser scanners to the fore, creating sustained opportunities for key stakeholders of precision measuring tools market.
Experts are of the opinion that laser technology will continue thriving, which, in turn, will result in the blurring of lines between contact and noncontact precision measuring tools in terms of accuracy. Manufacturers of laser scanners are focusing on recalibrating accuracy of their offerings to not only make them effective for measurements, but also capable of analyzing tooling cavities, inserts and tooling cores.
End Users Increasingly Seek 3D Precision Measuring Tools, Portability and Convenience Remain Valued
The precision measuring tools market is witnessing a marked inclination toward portable, easy-to-use and 3D precision measuring technologies. Sensing the fore mentioned shifts in end user demand, manufacturers are focusing on diversifying their production lines via new product launches. Leading manufacturers in the precision manufacturing tools market space are developing 3D precision measuring tools to enable end-users improve their product quality, reduce turnaround times and cut operating costs. Key players are also stepping up their game by offerings products that are highly portable, which will help them reap sizeable profits and sustain business growth. As end users continue to seek competent offerings, manufacturers are focusing on commercialization of products that not only exceed the end user expectations, but also offer value-added benefits.
Rise of Automation to Result in Intensified Demand for Advanced Precision Measuring Tools
Shortened development cycles and cost-reduction remain highly instrumental for businesses to stay competitive. Concurrently, energy, raw materials and workforce are getting highly expensive, posing multiple challenges for industries with respect to long-term sustenance. In this scenario, automation has emerged as the best way possible for industries to improve process efficiency with compromising on the quality.
Whether in production, service and maintenance or testing, automated sequences are likely to put down their roots across multiple areas. Ever-increasing demand for added efficiency and cost reduction across majority of the industries will continue to boost the importance of automation.
Growing dependence of automation will exert significant influences on the measurement technology landscape. This, in turn, signifies that the precision measuring tools and technologies of today will have to be in sync with futuristic demands for automation technology tomorrow.
Growing Demand for Custom-Made Gages Best-Suited to Target Applications' Needs
A significant rise in demand for customization is palpable in almost every other industry. Customers are no longer obligated to buy on-the-shelf products and are highly invested in personalization. Manufacturers are using this growing trend of customization as an opportunity of winning customer loyalty by offering tailor-made products of the highest quality. If evolving trends in the precision measuring tools market landscape are closely analyzed, there is a steep inclination toward custom-made gages in line with the target applications and associated specifications.
Many of the conventional gages fail in terms of providing suitable measurement solutions as per the modern day requirements - a primary reason why end users are highly preferring custom-made gages. Custom-made gages offer exceptional results and can be compatible with a broader range of parts with varying geometry and tolerances. Moreover, custom-made gages also offer benefits in terms of time and cost for manufacturers and end users alike.
For more information, click here.
Related Glossary Terms
backlash


backlash

Reaction in dynamic motion systems where potential energy that was created while the object was in motion is released when the object stops. Release of this potential energy or inertia causes the device to quickly snap backward relative to the last direction of motion. Backlash can cause a system's final resting position to be different from what was intended and from where the control system intended to stop the device.

parallel


parallel

Strip or block of precision-ground stock used to elevate a workpiece, while keeping it parallel to the worktable, to prevent cutter/table contact.

shaping


shaping

Using a shaper primarily to produce flat surfaces in horizontal, vertical or angular planes. It can also include the machining of curved surfaces, helixes, serrations and special work involving odd and irregular shapes. Often used for prototype or short-run manufacturing to eliminate the need for expensive special tooling or processes.