Published
December 07, 2016 - 03:15am
A circular shape provides multiple benefits in the machining world. For example, round inserts are stronger than inserts with any other shape. However, when it comes to coolant channels in cutting tools and toolholders, channels that don't have circular cross sections can enhance operations.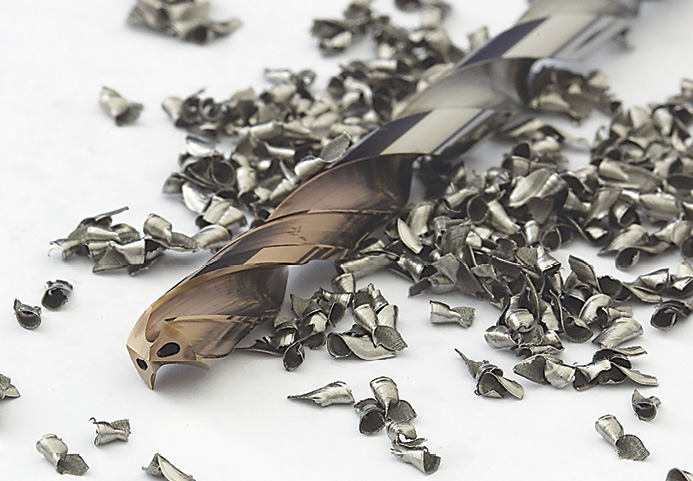 In the Mikron CrazyDrill Cool SST-Inox drill, the cross section of each coolant channel resembles the shape of a drop and facilitates up to four times more coolant flow than circular cross-section channels. Image courtesy Mikron Tool.

The coolant orifices in the CrazyDrill Cool SST-Inox drills from Mikron Tool SA, Agno, Switzerland, for instance, have a cross section that resembles the shape of a drop. [Mikron Corp. Monroe (Conn.) serves the North and South American markets.] This shape provides more space for coolant and facilitates two to four times more coolant flow at the same coolant pressure compared to a circular cross-section channel, without decreasing the mechanical resistance of the carbide tools, according to Alberto Gotti, head of research at Mikron Tool.
He added that a higher coolant flow rate lets users increase cutting speeds two to three times, boost feed rates 50 to 80 percent and extend tool life two to three times compared to tools with conventional coolant channels.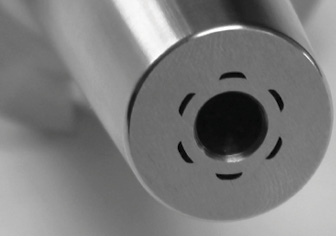 The coolant orifice shape in KoolBlast's Thermalfit toolholders produces a thin and wide coolant stream that slices through the air. Image courtesy KoolBlast.

The drills, which are effective for machining challenging materials such as stainless steel, are available in diameters from 1mm to 6mm (0.039" to 0.236"). To maintain coolant pressure and a high flow rate along the entire tool length, drills less than 3mm (0.118") in diameter have a "power chamber." Gotti explained that the coolant pressure drops about 30 to 50 percent as it travels from the orifice entry to the tool tip in small-diameter tools, and a reservoir in the shank, where pressure can accumulate, helps maintain a high pressure and, therefore, an effective cooling effect.
"With the power chamber, there is still a little pressure drop, but it is significantly better than without the chamber," Gotti said, adding that having a pressure around 1,000 psi (69 bar) is desirable for small-diameter drills.
A nonround hole also offers advantages for through-coolant toolholders. KoolBlast by Advanced Industries Inc., Chelsea, Mich., offers Thermalfit and Weldon-style holders with the PressureMax design. This design has a unique orifice shape to help reduce coolant turbulence and increase coolant pressure, velocity and flow rate upon exiting the holder while maximizing coolant coverage at high spindle speeds, according to the company.
Kevin Beckington, president of KoolBlast, said the "bean-type shape" of the coolant channels' cross section prevents coolant streams from fanning out as they exit the channels and enables coolant to more effectively contact the cutting edges. This is because the orifice shape produces a thin and wide coolant stream that slices through the air rather than a big and round one that is more susceptible to being redirected when it contacts air, Beckington explained. "Imagine a knife cutting through the air."
KoolBlast developed the cross-section shape after conducting numerous experiments and using finite element analysis to help achieve the required coolant volume. "We were trying to produce 8 gpm at 1,000 psi," Beckington said. "There's almost a Venturi effect behind these holes where the coolant builds pressure before it actually comes out."
The design also helps maximize coolant exit velocity and coverage, according to the company.
He emphasized the reduction in thermal cracking of carbide tools this stream shape provides when machining a deep pocket because coolant constantly contacts the cutter rather than hitting a cutting edge only when it is out of the cut. "You don't have heating and then cooling happening all the time," Beckington said. "We've gotten up to a 300 percent increase in tool life in some tests."
Related Glossary Terms
coolant


coolant

Fluid that reduces temperature buildup at the tool/workpiece interface during machining. Normally takes the form of a liquid such as soluble or chemical mixtures (semisynthetic, synthetic) but can be pressurized air or other gas. Because of water's ability to absorb great quantities of heat, it is widely used as a coolant and vehicle for various cutting compounds, with the water-to-compound ratio varying with the machining task. See cutting fluid; semisynthetic cutting fluid; soluble-oil cutting fluid; synthetic cutting fluid.

feed


feed

Rate of change of position of the tool as a whole, relative to the workpiece while cutting.

shank


shank

Main body of a tool; the portion of a drill or similar end-held tool that fits into a collet, chuck or similar mounting device.