Published
October 16, 2020 - 06:00am
Tips for upgrading cylindrical grinding processes
When considering upgrading a cylindrical grinding process from a conventional vitrified aluminum oxide or ceramic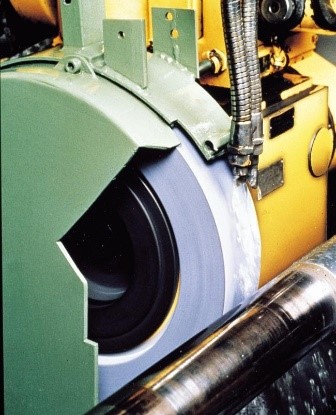 wheel to Vitrified cBN (VitcBN), there are 5 main reasons that can help justify the use of cBN over conventional abrasive grains.
1. Cycle times
Since cBN has a higher hardness factor and can stay sharper for longer periods of time, it can be pushed harder and cut faster and with a reduced frequency of re-dress.
2. Super hard materials
With some hard to grind materials such as M4, cBN makes more sense than conventional grains because sometimes the hardness of the alloy is close to the hardness of the conventional grinding wheel, which can glaze or damage the wheel.
3. Grinding stock
Having a high volume of material to remove may warrant using VitcBN grinding wheels.
4. Reduce costs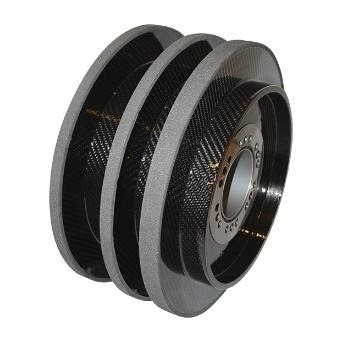 The VitcBN wheel reduces the amount of dressing required, and the abrasive layer needed (usually from 3mm to 9mm radius) to grind big batches. This can translate into lower overall operation costs.
5. Thermal stability
The thermal conductivity of the cBN grain is greater than aluminum oxide or ceramic grain, which helps dissipate heat.
Making the switch
To switch from a conventional grinding process to a VitcBN process, it is important to review 3 main areas: machine requirements, wheel considerations, and training.
Address machine requirements
The grinding wheel spindle has several areas to consider.
1. Bearings: The spindle will need rigid bearings to handle a heavier wheel.
2. Max Operating Speed: Spindles for VitcBN require higher speeds than for conventional wheels and usually run between 40 to 120m/s.
3. Horsepower: VitcBN wheels have a steel core that makes them heavier. The motor will require enough horsepower to spin the wheel, and maintain grinding speeds. Carbon fiber has been used as a core material to lower weight, but costs more.
Dressing
1. Dressing device: VitcBN wheels require a rotary dresser, as there is no other way to dress a VitcBN wheel.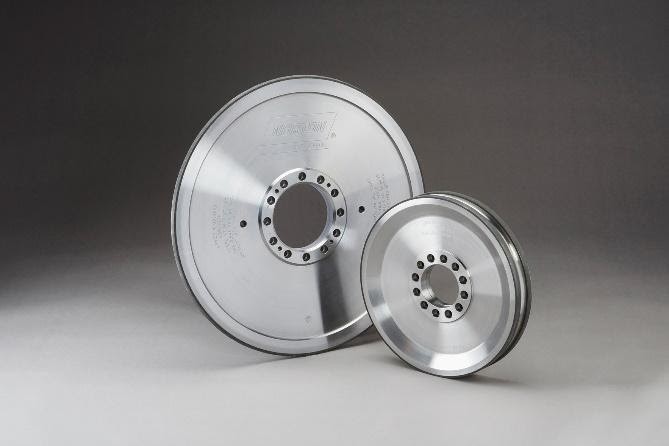 2. Location of dressing device: The conventional process typically does not require a rotary dresser, there may be no place to setup such a device. It should be located in a rigid spot with good access to the VitcBN wheel without interfering with the grinding process.
Coolant system
1. Pump: Coolant flow needs to match the wheel speed and should provide enough pressure to break the air barrier, and ensure optimal coolant delivery.
2. Nozzles: Sometimes specially designed nozzles are required to break the air barrier and deliver the coolant.
3. Coolant: In many cases coolants used with conventional wheels can be used for VitcBN, but it is recommended to work with the coolant manufacturer to come up with best option.
Machine Rigidity
Since cBN is harder than aluminum oxide or ceramic grain, the grinding machine needs to be rigid enough to withstand the grinding forces. In addition to having tight spindles, it is also necessary to have close fitting slides.
Safety
Machine guards: When running VitcBN at higher speeds, it's important to have a guard to protect the operator.
Grinding wheel considerations
If the cylindrical grinding machine cannot spin the wheel fast enough, the VitcBN specification will need to be modified for slower speeds.
If the spindle cannot take the weight of the VitcBN wheel, a smaller wheel will need to be designed, as long as the machine and process can accept that. It may be possible to change the wheel core to a lighter material.
Operator know-how
1. Handling: The operator will need to learn the proper way to care for the VitcBN wheel such as the need to store the wheel in a dry area to avoid rust.
2. Training: The operators and engineers will need to learn and determine the optimal conditions for grinding and dressing a VitcBN wheel.
VitcBN wheels are a great option for production grinding due to the potential to increase productivity and part quality, and lower the tool cost if used correctly. However, it requires study and may require adjustments to equipment and company practices.
For information on Norton | Saint-Gobain products, phone 508-795-5000 or visit the company's website.