Published
May 28, 2019 - 02:15pm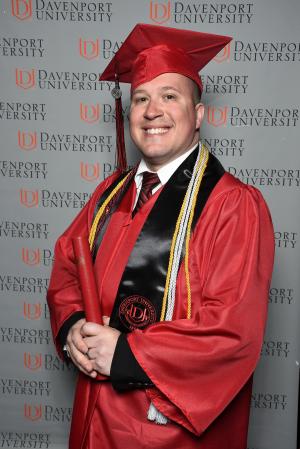 Article from ARCH Cutting Tools
Work/life balance, believing in – and supporting – its people; these are core principles of ARCH. Dave Fisher is an example of how the organization lives those principles.
In May 2019, Dave graduated Summa Cum Laude, with a Bachelor of Science in Network Design and Management and Network Security from Davenport University. At Commencement, he wore a gold honor cord representing his Summa Cum Laude status, and a maroon and white honor cord representing the Upsilon Pi Epsilon Honor Society for Computing and Information Disciplines, of which Dave is a member.
Graduating with all these honors, however, doesn't tell the whole story of his four years of hard work and study while still effectively filling his fulltime role as ARCH Manager of Information Technologies – Midwest Region.
"ARCH and all my co-workers were extremely supportive and encouraging of the pursuit of my education throughout the four years," Dave said. "I had the flexibility to attend my classes and complete my academic requirements, all while keeping up with the responsibilities of my fulltime role within the company.
"ARCH is a phenomenal employer that values its employees," he added.
The ARCH leadership team believes that supporting team members like Dave benefits the organization overall. "We're proud of Dave's accomplishment, as we are of all our employees who pursue continuing education or self-improvement. What's good for the members of the ARCH team is good for ARCH," said David Walker, ARCH CIO.
So, what's next for Dave?
"I'm just so proud to be a part of this team, I look forward to many more years of helping the organization grow and prosper – especially with all the knowledge and skills I've acquired through my degree work," he said.