Published
May 08,2019 - 01:30pm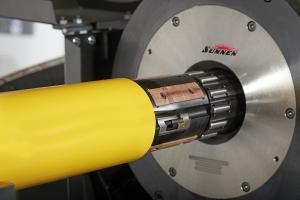 ST. LOUIS, MO – Sunnen Products Company is relocating its BTA Heller division to the Sunnen headquarters in St. Louis, MO. The move from Troy, MI will be completed by March 31, with key personnel making the move. Sunnen's acquisition of BTA Heller last year created a unique solution for shops looking for complete bore creation-to-finishing capabilities. Sunnen, the world's largest vertically integrated manufacturer of honing systems for precision bore sizing and finishing, added BTA's deep hole tooling and systems for primary hole generation. The move will facilitate further development of tooling, systems and processes, as the companies build on natural synergies to offer single-source bore creation and finishing solutions.
"Our companies complement each other very well," said Chris Miltenberger, President and COO of Sunnen Products Company. "No other deep hole/BTA company has Sunnen's global presence for customer, technical and post-sale support. The transfer of knowledge between the two companies has already created unique value propositions, and Sunnen's strong sales and service network will deliver this expertise to our customers."
Sunnen's core technical competencies include automated and manual honing and lapping systems, custom system development and integration, abrasives, tooling, lubricants, and gaging. The BTA Heller acquisition expanded Sunnen's industry leading honing expertise to include tooling for initial hole creation and other complementary bore sizing and finishing processes. Sunnen recently introduced the new SHD series skiving and roller burnishing system with tooling engineered and supplied by BTA Heller.
Related Glossary Terms
burnishing


burnishing

Finishing method by means of compressing or cold-working the workpiece surface with carbide rollers called burnishing rolls or burnishers.

lapping


lapping

Finishing operation in which a loose, fine-grain abrasive in a liquid medium abrades material. Extremely accurate process that corrects minor shape imperfections, refines surface finishes and produces a close fit between mating surfaces.