Published
August 26, 2017 - 09:15pm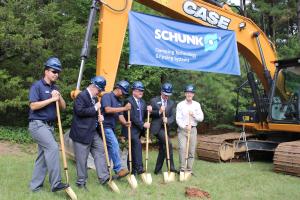 Schunk USA, Morrisville, N.C., started construction on an expansion project at its U.S. headquarters that will more than double the size of the facility. The U.S. headquarters of Schunk GmbH & Co. KG, Lauffen/Neckar, Germany, is already the largest facility outside Germany. The expansion will provide space for a tech center, a training facility and additional manufacturing capabilities, as well as increased office space to allow the company to better serve customer needs. Schunk USA will invest $30 million in infrastructure, equipment and personnel by 2022. More than 80 jobs will be created in 4 years. The additional manpower will enable the company to provide greater customer care and continue to meet the demands of a rapidly growing and continually evolving manufacturing industry.
"This expansion is important for us to continue meeting the needs of our customers," said Milton Guerry, president of Schunk USA. "As manufacturing processes grow and change, Schunk will continue to be a leader in the industry with cutting-edge technology and a focus that continually places the customer first."
Two separate expansions will be built in phases. Initially, a 19,000-sq.-ft. addition to the east side of the building will expand the size of the manufacturing area by 150 percent. This will allow for greater efficiency and increased production capabilities to better respond to customer requests and specialty orders. The addition also will double the space dedicated to the NCTAP apprenticeship program, allowing the company to continue to train future generations of workers. A separate 22,000-sq.-ft., three-story addition to the north side of the building will encompass a tech center, a training facility and more office space. With these facilities, Schunk will be able to host enhanced training programs for distributors and customers, allowing them to better understand products and improve their own applications. The tech center will showcase the latest innovative technology so customers can view products in a real-life application and through interactive demonstrations.
The expansion is expected to be complete in fall 2018.