Published
November 13, 2017 - 08:45am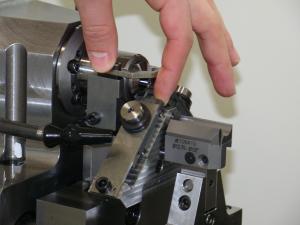 Rollomatic Inc. hosted an open house Nov. 7-9 at its headquarters in Mundelein, Ill. In addition to displaying the latest Rollomatic and Strausak grinding machines, as well as a Platit tool coating machine, the event offered attendees an opportunity see a demonstration of Rollomatic's software for Industry 4.0.
The software includes R-Monitor and R-Connect. The company reports that the former is machine monitoring software to provide instant and historical visibility of how Rollomatic grinders perform at a manufacturing facility, and the latter enables communication between Rollomatic machines and other third-party systems, such as enterprise resource planning software, automation equipment and even Twitter.
R-Monitor allows an end user to view the production rate of machines for a defined period of time, monitor cycle times for parts in progress and view the potentiometer's position showing the feed rate and spindle override. The software also provides the status of a machine while it is not in production, for example, when it is in warm-up mode or an alarm is triggered.
Because R-Connect works via the local area network, the grinder doesn't require any additional equipment, and an additional input/output module isn't needed, according to the company. Benefits include machine status notification via email or short message service, access to any machine and program data, and remote monitoring on the machine or intranet.
In addition, the event showcased a system for V-block shank guidance with a top clamp that boosts productivity by simplifying the process and reducing setup time by 5 to 10 minutes. Rollomatic reports that its SmartGuide ensures a maximum tool runout within 3µm, reduces shank-guide tooling costs by 70 percent and can be retrofitted onto existing grinders.
"The aim is first piece, good piece," said Eric G. Schwarzenbach, company president.
About 80 to 85 percent of the grinders Rollomatic sells are for producing cutting tools, with the remainder used to make precision punches and medical and dental devices, he noted.