Published
February 24, 2014 - 06:00pm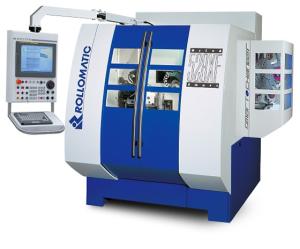 CNC machine tool manufacturer Rollomatic Inc., Mundelein, Ill., is exhibiting several new products during the GrindTec show in Augsburg, Germany, to be held March 19-22, 2014.
One product on display is the GrindSmart 6-axis CNC grinder that is furnished with a traveling work head that can produce drills with a flute length up to 12". In addition, other solid-carbide drills and high-performance endmills can be manufactured. Features include a camera to locate coolant holes and a 6-station wheel and nozzle changer.
To reduce cycle time and operator intervention, Rollomatic's 6-axis tool grinding machines incorporate new options such as auto sticking, wheel/nozzle changing, a synchronous 20 hp grinding spindle and new software that allows production of solid-carbide drills as well as endmills with flute polishes that provide razor-sharp cutting edges up to 20mm in diameter.
Rollomatic is also showcasing a 3-axis peel grinder. The ShapeSmart NP3 is a single wheel cylindrical grinder with peel and traverse-grinding capabilities. According to the company, the peel grinder is suited for manufacturing blanks for the cutting tool industry, precision punches and other parts.
In all, Rollomatic will display the following machines in booth 5111at GrindTec:
LaserSmart 500 Laser Cutting/Ablation Machine
ShapeSmart NP5 Peel/Pinch Grinding Machine
GrindSmart 528XF Long Drill Grinding Machine
ShapeSmart NP3 Peel Grinding Machine
GrindSmart Nano6 Super-Small Tool Grinding Machine
GrindSmart 628XW Tool Grinding Machine
LS-II Laser Measuring Device - VirtualGrindPro Tool Design Software.