Published
November 10, 2023 - 07:30am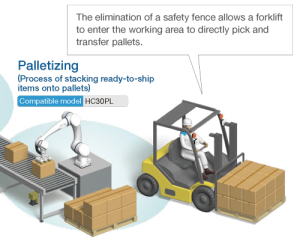 The robot market, in terms of revenue, was estimated to be worth $74.10 billion in 2022 and is poised to reach $231.48 billion by 2030, growing at a CAGR of 15.3% from 2022 to 2030 according to a new report published by The Insight Partners.

A robot is a programmable, autonomous, or semi-autonomous machine designed to perform tasks or manipulate objects, primarily in industrial scenarios. It generally consists of sensors for gathering information from the surrounding environment, a controller for processing data and undertaking decisions, and various mechanical components for performing programmed actions.
Labor shortages, high labor costs, government initiatives for industrial automation, and rising adoption of Industry 4.0 strongly promote demand for robots across different industry verticals.
The strong adoption of Industry 4.0 is primarily driving the robot market. Additionally, there is a tremendous rise in various initiatives from different Governments, coupled with funding from such initiatives, which support the adoption among SMEs and large enterprises. Thus, the market demand is anticipated to increase during the forecast period.

Key players
ABB Ltd, Daifuku Co Ltd, Denso Corporation, Fanuc Corporation, and Kuka AG are key players in the robot market. With the strong growth in demand for humanoid robots, numerous companies have established partnerships to expand their offerings and improve market share.
For instance, in September 2023, FANUC America, a leading robotics supplier, and OSARO Inc, a leading machine learning (ML) provider-enabled robotics for e-commerce, partnered to expand the capabilities of the former's robotic automation solutions targeted towards warehousing and e-commerce fulfillment.
The two enterprises plan to collaborate on go-to-market strategies, commencing with installing an advanced piece-picking demonstration robot at FANUC's Innovation Center in Michigan, the US. Similarly, in January 2023, KUKA Systems partnered with UK-based software company Ai Build and launched a turnkey, integrated 3D printing system named the AMCell series. It involves the KR AGILUS robot from KUKA and Ai Build's additive manufacturing software AiSync and targets various additive manufacturing applications.
Growth of E-Commerce 
People strongly rely on e-commerce and shift toward online shopping instead of visiting physical stores. For instance, in the US, more than 60% of the population is online shopping.

Further, customers expect faster delivery time, owing to which e-commerce players are adopting automation in their processes. The fluctuations in demand for stock-keeping units (SKUs) create complexities in picking operations, which slows down the fulfillment process.
Thus, there is a growing requirement for optimization and efficiency of operations. The mounting number of online shoppers across the globe is strongly influencing the adoption across the e-commerce industry. Significant automation applications across, thus compelling the adoption by the sector, specifically for workflow process automation and automated storage and inventory retrieval. Inventory sold by e-commerce sellers is stocked in warehouses. Automated Storage and Retrieval Systems (ASRS) are being rapidly deployed to reduce the time for sorting and stocking these products.
Along with managing SKU demand fluctuations, an ASRS also advances the fulfillment process, thus allowing e-commerce and omnichannel retailers to adhere better to service-level agreements (SLA) by complying with order delivery commitments. Several e-commerce giants have also expanded their investment in automating their warehouse facilities. In August 2022, The Kroger Co announced the expansion of its customer fulfillment center (CFC) network, supported by Ocado Group's technology.
Two new CFCs were automated by utilizing technology from Ocado Group. The first such automated CFC was opened in April 2021. Additionally, new products and technologies are being launched regularly to support the growing automation of warehouses.
For instance, in June 2022, Amazon announced the launch of a new fleet of robots and automated systems. Amazon announced an autonomous robot named Proteus and a robotic system titled Cardinal. As per the company, Proteus allows for full autonomy of the warehouse floor and can operate in a manner that supplements simple and safe interaction between technology and people. Such factors are expected to boost the growth of the market over the forecast period.
Segmental Overview
The robot market is segmented based on type, organization size, and vertical. The market is segmented based on type into industrial and service robots. Industrial robots are further segmented into articulated, cartesian, and others, while service robots are further segmented into aerial, ground, and marine.
The market is bifurcated by organization size into SMEs and large enterprises. Based on vertical, the market is segregated into aerospace & defense, automotive, electronics & semiconductor, healthcare, IT & telecom, manufacturing, retail & e-commerce, transportation & logistics, and others. By geography, the market is segmented into North America, Europe, Asia Pacific (APAC), Middle East & Africa (MEA), and South America (SAM).
Recent developments
May 2023 – Opentrons, a biotech company based out of New York City, launched the Flex Robot, the second robot of the company after OT-2. It was designed to be compatible with artificial intelligence (AI) tools, thus enabling quicker reconfiguration for new applications. Moreover, the Flex robot's self-learning capabilities are augmented by providing access to Opentrons' extensive libraries of over 500 protocols.
August 2022 - YASKAWA Electric Corporation launched MOTOMAN-HC30PL (see picture above), a human collaborative robot for palletizing applications, having a payload capacity of 30 kg. The new robot can handle heavy0 human collaborative robot to 30 Kg. The series of features high safety levels, allowing first-time users to operate the robot easily.
January 2022 – DHL Supply Chain, the global and North American contract logistics leader, announced a US$ 15 million investment in robotics solutions from Boston Dynamics, a leader in mobile robotics, to expand the automation of their warehouses in North America. The companies signed a multi-year agreement to install Stretch, Boston Dynamics' newest explicitly designed to automate the unloading procedure in distribution centers of DHL facilities throughout North America over the next three years. Boston Dynamics introduced Stretch in 2021 and made it commercially available in March 2022.
Related Glossary Terms
centers


centers

Cone-shaped pins that support a workpiece by one or two ends during machining. The centers fit into holes drilled in the workpiece ends. Centers that turn with the workpiece are called "live" centers; those that do not are called "dead" centers.

payload ( workload)


payload ( workload)

Maximum load that the robot can handle safely.

robotics


robotics

Discipline involving self-actuating and self-operating devices. Robots frequently imitate human capabilities, including the ability to manipulate physical objects while evaluating and reacting appropriately to various stimuli. See industrial robot; robot.