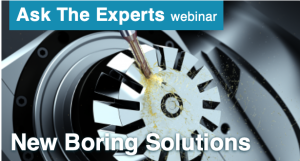 Cutting Tool Engineering's July 2022 issue will focus on how shops can meet demand for stringent boring operations. Bores must be machined with micron accuracy and maintain critical tolerances in low- and high-volume manufacturing applications. New digital solutions in boring and machine tool systems are set to transform industrial production. To supplement this report online, CTE will address some of these solutions during its Ask The Experts webinar scheduled for 10 a.m. (CDT) on Wednesday, July 20th.
Related Glossary Terms
boring


boring

Enlarging a hole that already has been drilled or cored. Generally, it is an operation of truing the previously drilled hole with a single-point, lathe-type tool. Boring is essentially internal turning, in that usually a single-point cutting tool forms the internal shape. Some tools are available with two cutting edges to balance cutting forces.

micron


micron

Measure of length that is equal to one-millionth of a meter.