Published
September 12, 2016 - 07:15am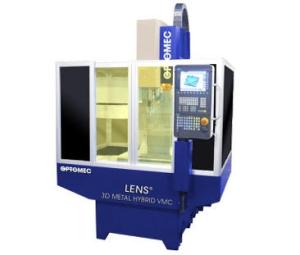 Optomec, Albuquerque, NM, a global supplier of production-grade additive manufacturing systems for 3D printed metals, launched a new tool series today at IMTS 2016 that reportedly enables low-cost, high-value metal additive manufacturing.
The new LENS Machine Tool Series integrates Optomec's LENS metal additive manufacturing technology into conventional CNC vertical milling platforms, which results in breakthrough price points as well as the industry's first Hybrid VMC Controlled-Atmosphere System, according to the company.
Optomec also announced an agreement with Fryer Machine Systems, a producer of high-quality, affordable machine tools, to integrate the Optomec LENS metal additive manufacturing solution into Fryer's new LaserFab 3D hybrid machining centers. Pricing for Fryer's hybrid VMCs (Vertical Machining Centers) will start under $350,000.
Fryer will demonstrate their new hybrid LaserFab series at IMTS in the South Hall (Booth # S8719). Optomec will be in the North Hall (Booth # N73).