Published
October 17, 2013 - 07:00pm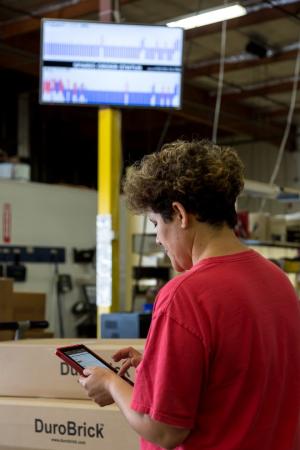 OMAX Corp. has integrated a company-wide custom-designed automated management system. This system, developed in house by OMAX, helps eliminate bottlenecks, provides active real-time measurable data and makes it possible to quickly adjust to fluctuating production schedules.
"We continuously work to ensure our customers have the high-quality abrasive waterjet solutions they need, when they need them," said Dr. John H. Olsen, vice president of operations at OMAX, Kent., Wash.. "With that said, a large portion of the new automated management system's functionality is the ability to switch back and forth according to changing demand and production schedules. These fluctuations drive inventory, and the new system recalculates our production forecasts and inventory values for generating daily work plans that are accurate and current."
The new automated management system uses basic consumer technology. Instead of purchasing specialized hardware, the system uses Amazon Kindle Fire tablets, large touch screens and standard label printers.
The company has over 100 tablets in operation. The devices are lightweight, and almost every function is initiated within two button clicks so employees can quickly enter applicable transactions. The management system also provides real-time inventory numbers, which helps the manufacturing staff picking parts, as well as the purchasing and accounting departments. Prior to the new system, data entry was time-consuming and often lagged by a day or two.
The automated system and tablets allow employees to quickly locate and track all the necessary components and subassemblies involved in building the company's OMAX JetMachining and MAXIEM JetCutting Centers. The tablets display--in illustrations or photos--the needed model-specific parts and components that, once picked, are marked with labels generated by battery-powered label printers on each cart. The carts are then wheeled to assembly stations.
The tablets are also used for monitoring real-time dispatch lists of activities and completion schedules. All activities--transfers, parts gathered, shipped materials and the like--are prioritized and instantaneously displayed.
OMAX enhances its work order tracking with the new system. For each order, the system lists all prescribed steps to follow and within which of company's various work centers the work will be done. Each work center can then view its workload and schedule, as well as track a work order as it progresses through the factory.
At various work centers throughout its factory, OMAX has 27" touch screen monitors that, as part of the automated management system, provide visual instructions for workflow management. Images of components and subassemblies are prominently displayed so those assembling machines can do so without accessing a laptop or computer screen. Any new or updated procedures that have been incorporated are also noted on the monitors.