Published
April 06, 2022 - 06:00am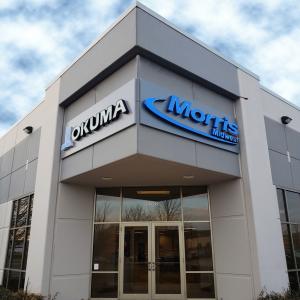 Okuma America Corp., a builder of CNC machine tools, controls and automation systems, and the management team of Morris Group Inc. (MGI) has established a new facility to serve as a product showroom and technical center to showcase CNC machine tools and associated equipment.
Okuma and MGI have been business partners for 42 years, with MGI serving as Okuma's sales, service and product distribution partner in select regions throughout the United States.
The companies opened a new facility strategically located in Elgin, Illinois, to serve as a product showroom and a technical center for machine tool users in the greater Chicago and Midwest region of the USA. The facility includes both office space and a showroom to house Okuma machine tools and other manufacturing-supportive technologies.
"Morris Midwest is responding to the needs of our customers with this new facility," said Aaron Hornyak, COO of MGI. "The simple automation on display is an excellent solution to a skilled labor shortage and high product demand. We have created an environment where machines and automation will be on display together with experts to assist in providing solutions to help our customers gain a competitive edge."
Elgin was selected for the facility due to its proximity to Chicago and other tooling and machining groups in the area. The facility is located 29 miles away from Chicago O'Hare International Airport.
"This new facility presents our customers the opportunity to explore a variety of Okuma machine tools and witness live demonstrations that showcase the latest CNC technology and the machines' accuracy, high precision, and rigid construction," said Jim King, president and COO, Okuma America . "Our decades-long partnership with Morris Group Inc., provides our customers with extensive industry expertise and comprehensive support and service to identify the best solutions for their manufacturing challenges."
For more information, click here.
Related Glossary Terms
computer numerical control ( CNC)


computer numerical control ( CNC)

Microprocessor-based controller dedicated to a machine tool that permits the creation or modification of parts. Programmed numerical control activates the machine's servos and spindle drives and controls the various machining operations. See DNC, direct numerical control; NC, numerical control.