Published
September 16, 2020 - 12:00pm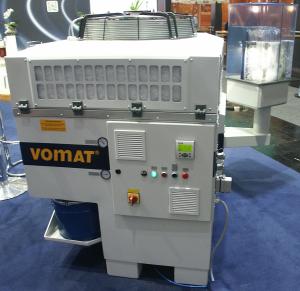 Oil filtration system helps improve environment
Reducing the environmental footprint in a production plant is often achieved with state-of-the-art production equipment, but many companies are looking to improve on these achievements.
One example is tool grinding in which many improvements are the result of new grinding technology. Some companies are looking to better their results with coolant filtration systems, said Steffen Strobel, technical sales manager of filter manufacturer Vomat in Treuen/Germany. In tool grinding, the filtration system provides the grinding process with lubrication and cooling in a pre-defined purity and volume flow. The heart of the system is the filtration of the cooling lubricant.
Vomat manufactures myriad filtration solutions that can separate 100 percent of dirty and clean oil in full flow by means of durable high-performance pre-coat filters. The purity achieved is 3µm to 5µm (NAS 7 standard). State-of-the-art filters, cooling and disposal technology, including HSS pre-filter systems for mixed processing, can help a company ensure economic and ecological success.
In Vomat systems, the filter flow and backwash cycles are automatically controlled and can adapt to the specific production process. If the grinding machine runs at a slower speed, only the required amount of coolant is filtered. If a Vomat central system provides filtration for several grinding machines, and some are not in operation, the filter capacity automatically adapts to the machining volume.
During cleaning in full-flow mode, the demand-oriented backwash cycle is triggered by the degree of filter cartridge contamination. After the relevant values are reached, the backwashing process begins, during which each filter is backwashed individually and with a time delay. The other filters ensure a continuous supply of clean oil. In the disposal unit, the dirty oil is separated from the sludge and then fed into the dirty oil tank.
In addition, Vomat technology controls the temperature of the coolant during the grinding process within a range of ±0.2 K. The high-precision temperature controls keep the coolant temperature always constant within the pre-selected range. This means that the grinding oil in use will have a long life cycle.
Vomat systems permanently cool down the coolant during continuous operation. Vomat offers various design options for its cooling systems, such as pallet-mounted units for easy removal and re-assembly on site without service personnel, and auxiliary units with external condenser for cooling. Another option is a cold water-operated cooling system with a closed loop piping system, such as the Vomat's modular and expandable KWS 250 chiller with circulating pump and controls. The cooling capacity is 250 kW for brine operation with a control accuracy of ±1.0 K.
The high-performance filters clean coolants extremely well, and act as an automatic sedimentation system. Proprietary design features of the Vomat system mean that the grinding sludge has a residual moisture content of only 5 to 10 percent after settling. The filter system can continue to operate during the removal and disposal of recyclable material. The sludge is deposited directly into transport containers provided by the recycling company. Contamination by filter aids such as cellulose or residues of paper bands are eliminated with the Vomat technology.
New, small footprint filter
Vomat now offers a vacuum belt filter (UBF) that Strobel said is an example of the company's market-driven, sustainable filtration technology.
With the Vomat UBF, ferrous and non-ferrous alloys, HSS, disc abrasion, binders, and more, can be filtered from cooling lubricants such as water-based media without a pre-filtration system to a filter fineness of 10µm to 30µm.
According to Strobel, the compact UBF unit is extremely easy to maintain and, due to a special belt guide design, takes up about 70 percent less space than conventional systems.
"Our systems manage the balancing act between productivity and environmentally friendly production," he said. "Sustainability also means to get the most out of the entire production process. The bottom line is that Vomat technology saves many resources such as machines, working time, space, energy and raw materials.

Vomat offers ultra-fine filtration systems. In the U.S., the technology can be viewed at Oelheld U.S. Inc. in West Dundee, Illinois. For information, phone 847-531-8501 or visit Vomat at www.vomat.de.