Published
February 26, 2021 - 07:00am
NIMS and Edge Factor partner to inspire a future workforce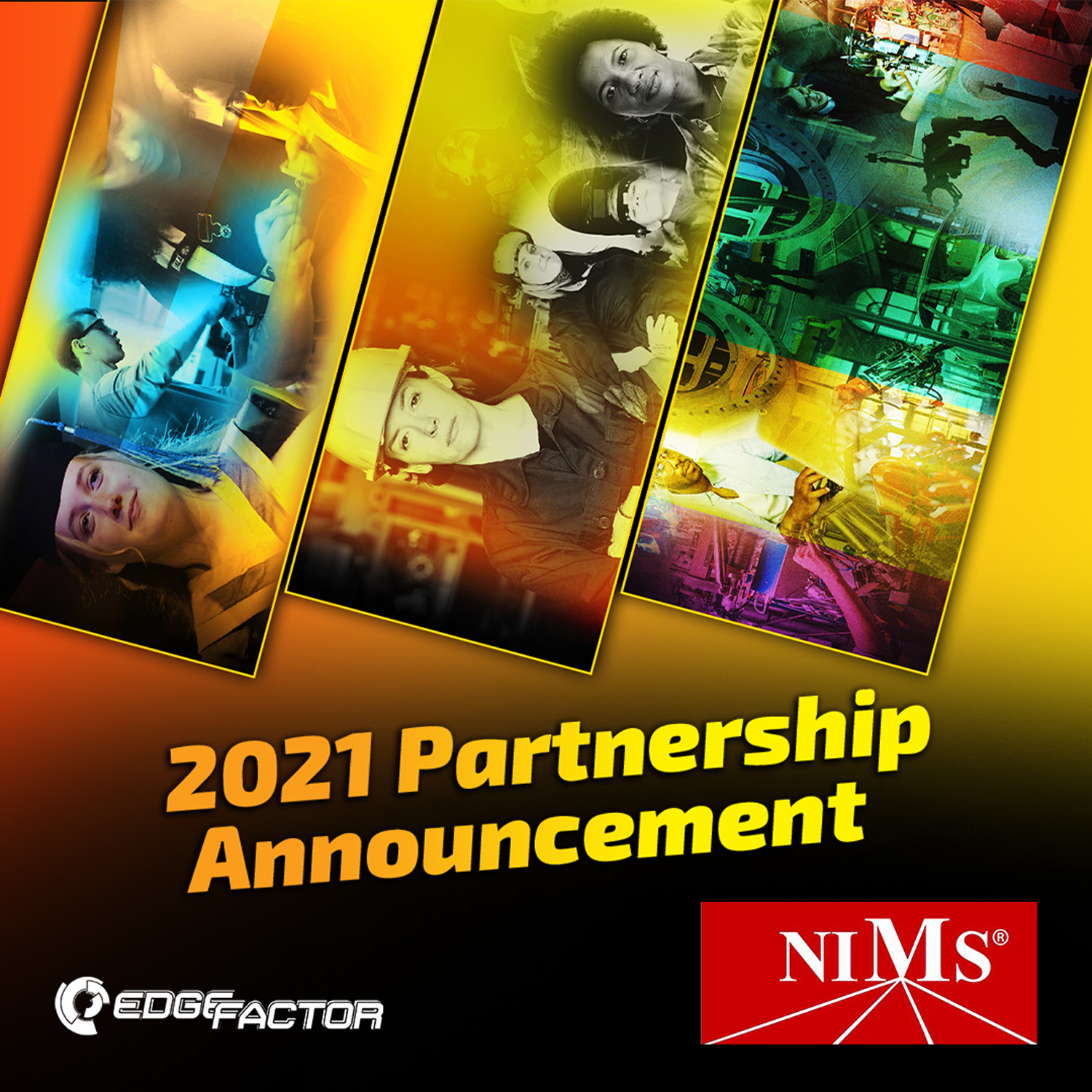 The National Institute of Metalworking Skills (NIMS) is partnering with Edge Factor, an online learning company, to inspire students and job-seekers to pursue career pathways in manufacturing and other skilled trades.
The workforce development initiative will provide schools with three free "Experience toolkits" that feature high-impact multimedia, a keynote presentation, promotional tools, and practical guidebook on how to plan, promote, host and follow-up on engaging presentations and virtual events. These online tools are meant to empower students, parents, and job-seekers to explore skilled trades, apprenticeships, hands-on learning programs, soft skills, and careers in science, technology, engineering, arts and math (STEAM).
Each free Experience will include:
Five days of STEAM Programming (including inspirational stories, industry and career profiles, STEAM content, soft skills videos, interactive activities, and lesson plans)
A keynote presentation (pre-recorded speaker)
"How-to" guides and promotional tools customized for schools, companies, and workforce leaders to plan, promote, host and follow-up on engaging Experiences.
NIMS provides industry-developed and validated performance standards, competency-based credentials, and training frameworks that enable collaboration between educators, manufacturers, policy makers, and community-based organizations. According to NIMS, the agency said that its 25 years of manufacturing training experience has enabled it to dynamically respond to the new fast paced, technology-driven economy. The organization has applied concepts of modularity and adaptability in training and performance validation to develop a new smart training framework. Its customizable format is aligned with manufacturers on the smart manufacturing journey and it is created with job roles, not occupations in mind.
"We have long appreciated the work that NIMS does. At a time where we need our communities to come together and build into our youth, this partnership is going to help us accomplish more by doing it together," said Jeremy Bout, president of Edge Factor.
The e-learning platform has created thousands of videos, interactive activities, and lesson plans that focus on career exploration. Edge Factor produced several films featuring NIMS graduates, and NIMS' executive director, Montez King, appeared in the documentary, Paradox.
Featuring select tools from the Edge Factor library, six free Experiences will be available during specific 2021 months, for organizations to share in classrooms, homes, and at events. Click here to learn more and pre-register: edgefactor.com/free-experiences
"I am very much looking forward to this collaboration. Edge Factor and NIMS have worked together for years to bring light to the importance and opportunities available to students in emerging fields of advanced manufacturing and skilled trades," said King.
NIMS is specifically partnering with Edge Factor on the following three 2021 Experiences:
Women in Skilled Trades (Mar - Apr 2021) - To celebrate International Women's Day/ Month, this toolkit features a special collection of tools that Edge Factor has created that feature women in skilled trades. The goal of this Experience is to encourage more women and female students to pursue career pathways in diverse skilled trades. In addition, NIMS will post a weekly live interview series throughout the month of March (hosted on its FB page) where they will interview a different woman in manufacturing each week to address challenges and opportunities in the field.
Rock MFG DAY (Sept-October 2021) - October is Manufacturing Month and the month when Manufacturing Day occurs, and Edge Factor is providing the 2021 Rock MFG DAY kit to highlight advanced manufacturing in celebration. This toolkit includes resources to promote manufacturing careers and technology and showcase how STEAM comes alive in this industry.
Apprenticeships (Nov-Dec 2021) - The Apprenticeships Experience provides inspirational and informational tools about apprenticeship programs. Additionally, Edge Factor and NIMS will produce a video series interviewing NIMS' King regarding his experience as an apprentice and his advice to students looking to enter into an apprenticeship and build a successful career.
To pre-register for these free 2021 Experiences, visit edgefactor.com/free-experiences.
For more information about NIMS, visit www.nims-skills.org. For more information on Edge Factor, visit edgefactor.com.
Related Glossary Terms
metalworking


metalworking

Any manufacturing process in which metal is processed or machined such that the workpiece is given a new shape. Broadly defined, the term includes processes such as design and layout, heat-treating, material handling and inspection.