Published
March 30, 2015 - 07:00pm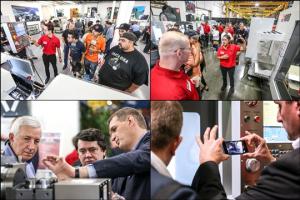 Haas Automation Inc.'s recent HaasTec open house attracted nearly 3,300 attendees to the company's headquarters and manufacturing facility in Oxnard, Calif., according to the company. The 4-day event drew visitors from 48 countries, including China, India, Korea, Latin America, the Middle East and many European countries, as well as more than 330 students from regional high schools, colleges and universities.
Held March 17-20, the event included machine demonstrations, tours of Haas Automation's 1 million-sq.-ft. facility, a catered lunch and 38 exhibitor booths with representatives from major CAD/CAM, tooling and workholding manufacturers.
The No. 41 Haas Automation Chevrolet that Kurt Busch drove to victory at Martinsville last year was on display at HaasTec, courtesy of Stewart-Haas Racing, and Busch made an appearance for an autograph session and private Q&A meeting with 100 attendees.
Machines on display included the UMC-750SS universal machining center, the ST-55 large-through-bore turning center, the DM-1 drill/mill center and the TRT100 high-speed dual-axis rotary table, as well as over 200 Haas machines in operation on the factory floor, making parts for more Haas machines, according to the company.
"The organization, planning, preparation and attention to details were superb," said John Hosmon of software developer Refresh Your Memory, Inc. "This was as much a mini-IMTS to us as it was an Open House to the Haas organization. We were able to work with end-user groups from around the world, and we were also able to spend quality time educating Haas dealers from all corners of the globe. Everyone was happy and thrilled to see how their Haas machines are built, and the care that goes into every detail of production."
Luke Swift of toolmaker SwiftCARB also enjoyed the event. "We had a great show and appreciated being invited to participate in the event," said. "Overall, I thought it was a fantastic show, and we really enjoyed the hospitality from all of the Haas staff. We would like to continue to participate in future HaasTec shows, and I have been recommending to colleagues that they look into participating in the next HaasTec show."
In addition to learning about new technology, visitors had a chance to look back in machining history. HaasTec included a display of the company's first VMC—machine No. 1, fitted with an early Haas rotary table—alongside its modern-day equivalent. Today's VF-1 still sells for less than the machine's 1988 introductory price: $49,900.
Related Glossary Terms
machining center


machining center

CNC machine tool capable of drilling, reaming, tapping, milling and boring. Normally comes with an automatic toolchanger. See automatic toolchanger.

turning


turning

Workpiece is held in a chuck, mounted on a face plate or secured between centers and rotated while a cutting tool, normally a single-point tool, is fed into it along its periphery or across its end or face. Takes the form of straight turning (cutting along the periphery of the workpiece); taper turning (creating a taper); step turning (turning different-size diameters on the same work); chamfering (beveling an edge or shoulder); facing (cutting on an end); turning threads (usually external but can be internal); roughing (high-volume metal removal); and finishing (final light cuts). Performed on lathes, turning centers, chucking machines, automatic screw machines and similar machines.