Published
September 22, 2017 - 02:30pm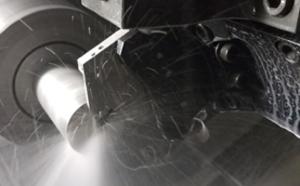 Minneapolis, MN – Premier Industries' proprietary pressure regulators are subjected to tough duty in the oil & gas, aerospace and welding industries, but their precision performance is also critical, as regulator outlet pressure determines downstream pressure. In short, these parts are built to last and perform – made from a variety of materials and with tight tolerances throughout. The Minneapolis-based designer and manufacturer needed a solution for faster cycle times and a better finish on custom, grooved pressure regulator parts. It found it in the HORN base holder for system 960 and modular grooving system 845, used on a Euro Tech twin/spindle/twin turret lathe.
The application requires parting off 2.5" diameter, 316 stainless steel or aluminum into pieces that utilized a 3.0mm wide grooved insert. "The tooling system we were using was running very slow, and our finishes were not up to standard," said Chuck Wimer, Operations manager at Premier Industries. "We went from cycle times of 1 minute, 40 seconds per part to 35 seconds per part, and cutting speeds went from 120 SFM to 250 SFM. Our finish improved from 51-55 Ra to 11-16 Ra consistently, and flatness went from .003-.0035 in. to .0001-.0003 in. across the 2.5-in. diameter. The parts are straight to under 0.001", so, we are very pleased with these results."
With this approach, Premier also increased tool life from 25 parts per edge to 75 parts per edge, while reducing cost per part from $4.30 to $0.91. "This has had a huge impact on our operations and our bottom line," added Wimer. "The solution is performing very well, actually better than we thought it would. We are vertically integrated, so after designing and producing the parts, we assemble and test them in our facilities. We've seen labor costs decrease in the downstream assembly phase simply because we're working with better parts. The surface finishes and seals are excellent."
Premier offers regulators with varying degrees of corrosion resistance, weights, strengths, etc., in size from 0.7" to 8.0", and equipment versatility is important in a custom-product environment. "We've been pleased with flexibility we have with this system, and its ability to process a wide variety of materials," added Wimer. "We've cut diameters up to 2.75". Almost all of our parts are now touched by HORN tooling at some point."
Located in Franklin, TN, Horn USA is a US subsidiary of Horn S.A. Luxemburg, and a supplier of grooving tools and developer of precision grooving technology. The company's modular grooving system 845 consists of a base plate for turrets with BMT connection, a height-adjustable grooving tool holder and a matching cartridge range for various grooving widths and depths. The widths range in size from 2.0mm (0.078") to 4.0mm (0.157"), and the depths of cut range from 0.669" to 2.165". This allows the system to part off material as large as 4.33" diameter to center using a 4mm wide insert, and allows for coolant to be delivered directly to the cutting zone. The grooving tool holders with integrated coolant supply allow the cartridge heights to be adjusted and adapters set in a normal or overhead position, on the left or right of the grooving tool holder for maximum versatility.
Edited from information provided by HORN USA.