Published
November 03, 2020 - 04:30am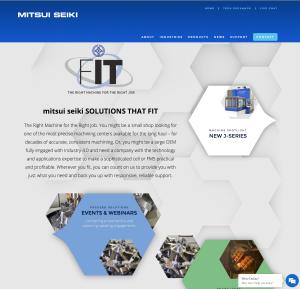 Mitsui Seiki USA Inc. overhauled its U.S. Website to be more interactive with new features such as the Tech Exchange community section.
"The idea was to establish an online place where industry professionals can post and exchange technical information regarding a wide range of manufacturing processes and general industry information about various economic markets, industry events, and the like," said Bill Malanche, Mitsui Seiki's COO. "We've initiated a few conversation starters there at the launch, and we look forward to many users engaging and starting their own topic threads."
To participate in the Tech Exchange, visitors must establish an account. Mitsui Seiki personnel will be monitoring the commentary.
The company also has a "Watch" for staff-inspired video clips relayed in a casual, personal way. For more formal presentations, "Events & Webinars" is also a new home page feature, which currently features Mitsui Seiki USA Chairman Scott Walker giving an IMTS Spark presentation on "Questions to Ask Before Buying a Machine Tool". A "Chat Now" button is also prominent on the home page for quick access to a Mitsui Seiki USA support expert.
The updated Website also showcases information on the company's line of HMCs, VMCs, jig borers, jig grinders, thread grinders, and specialty machinery.
"We're excited about this new site that follows all the current best practices for superior customer engagement and support," said Malanche. "I hope everyone reading this notice goes to mitsuiseiki.com and browses around! We'd welcome the feedback."
To visit the revamped Website, click here.
Related Glossary Terms
jig


jig

Tooling usually considered to be a stationary apparatus. A jig assists in the assembly or manufacture of a part or device. It holds the workpiece while guiding the cutting tool with a bushing. A jig used in subassembly or final assembly might provide assembly aids such as alignments and adjustments. See fixture.