Published
May 07, 2014 - 07:00pm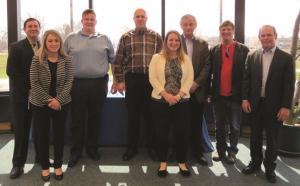 Midwest Industrial Tool Grinding Inc. hosted a tour of its Hutchinson, Minn., facility on April 22, 2014, that included representatives from LifeScience Alley (LSA), a trade association with 680 members from U.S. life sciences industry, and the Hutchinson (Minn.) Economic Development Association (EDA). The event at MITGI was part of a larger tour of Minnesota by the LSA and EDA in an effort to cultivate relationships and connect industry partners in the state.
Serving the life sciences in the U.S., LifeScience Alley is a state-based trade association that works to improve the operating environment for companies through advocacy, education, innovation, and building connections throughout the industry. In Minnesota, life sciences focus primarily on renewable materials and energy, food, animal health, and medical devices.
"Bringing outside groups to Hutchinson helps to raise awareness of the manufacturing capabilities that are available here," said Lee Miller, Economic Development Director with the EDA. "Tours like these allow us to show the full range of manufacturing that could apply to the life science industry, from very precise tooling to large-scale manufacturing."
For more than 20 years, MITGI has manufactured specialty cutting tools for manufacturing plants that require precision tooling such as those required by the life sciences industry, said Eric Lipke, general manager of MITGI. "We were thrilled to showcase the capabilities that MITGI has to offer to the medical device industry and to participate in this event with the Hutchinson EDA."
Related Glossary Terms
grinding


grinding

Machining operation in which material is removed from the workpiece by a powered abrasive wheel, stone, belt, paste, sheet, compound, slurry, etc. Takes various forms: surface grinding (creates flat and/or squared surfaces); cylindrical grinding (for external cylindrical and tapered shapes, fillets, undercuts, etc.); centerless grinding; chamfering; thread and form grinding; tool and cutter grinding; offhand grinding; lapping and polishing (grinding with extremely fine grits to create ultrasmooth surfaces); honing; and disc grinding.