Published
December 20, 2015 - 06:00pm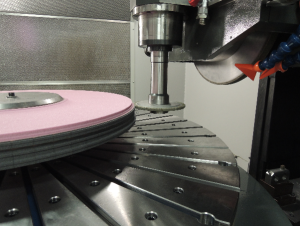 Meister Abrasives USA Inc. in December 2015 added an advanced CNC manufacturing system to its lineup, making it possible for the North Kingstown, R.I., company to manufacture large diameter external wheels in the United States using equipment, materials and a manufacturing process identical to those used by its parent corporation in Switzerland. The new CNC system is said to be capable of producing large vit CBN and diamond abrasive wheels up to 1,225mm (about 4') in diameter.
"By making these products at our facility in North Kingstown, we will be able to reduce lead times for external grinding wheels larger than 500mm in diameter by up to 40 percent," said Bruce Northrup, vice president and general manager of Meister Abrasives USA. "Customers will be able to count on getting large external grinding wheels in 6 to 8 weeks, rather than 9 to 10 weeks."
Large-diameter external grinding wheels represent about 20 percent of Meister Abrasives USA's total sales. Northrup said he believes that percentage will grow as short lead times now make it reasonable for manufacturers to consider Meister's advanced big wheel abrasive technologies for such applications as fuel injector needles, cam and crank, and OD grinding of transmission components.
Large pellet wheels for lapping and fine grinding are another area where customers may be enticed to resurface large wheelbases—weighing several thousand pounds—with quality Meister Abrasives pellets. In the past shipping these bases to Switzerland was prohibitive from both a cost and lead-time perspective.