Published
January 10, 2020 - 01:15pm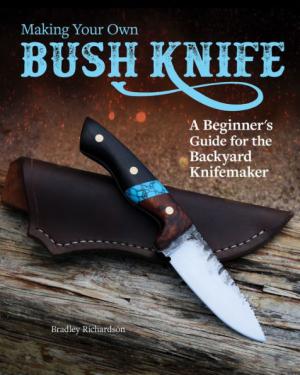 When making a cutting tool, I tend to think of a drill, endmill or other metalcutting tool being produced on a CNC tool and cutter grinder in a factory. A book by Bradley Richardson, however, describes how to make a different type of cutting tool with manual tools and equipment in a nonproduction environment. Published by Fox Chapel Publishing Co. Inc., Mount Joy, Pennsylvania, "Making Your Own Bush Knife: A Beginner's Guide for the Backyard Knifemaker," details the process of creating a custom knife, such as one for skinning game or basic woodcarving. Richardson, who resides in northern Michigan, sells his knives under the name Timberlee Tool & Trade and was a cast member on the History Channel's "Alone" survival show.
The 184-page book covers each step required for a bladesmith to make a bush knife, including selecting the steel, creating a profile, forging the blade or profiling by stock removal, grinding the bevels, and attaching and shaping the handle. Throughout the photo-packed guide, Richardson emphasizes the importance of personal safety in a knife shop, as well as knife safety. The book also examines the tools of the trade, with a focus on acquiring them economically or building them from scratch, which the author did for two belt grinders.
"I'm a firm believer that the best tool for the job is one that you can find in the garage," he wrote.
When made and maintained properly, a hand-crafted bush knife is a custom work of art that can last for generations. Similar to the metal sculptors by Chris Bathgate that I wrote about in the March 2019 issue, production efficiency is not the goal when crafting a knife. The process requires a great deal of time and patience and the ability to learn from every mistake that's made. And based on the photo of Richardson's "knife graveyard" box, mistakes are common.
The most challenging element of successful knife making seems to be heat treating the blade to achieve an ideal balance of toughness and hardness without having a furnace or oven that's specifically designed for the task. As Richardson stated, "Practice makes perfect, and perfect is rare. If there is one thing I could go back and do as a beginner, it would be to spend more time learning tempering and the art of metallurgy."
According to Richardson, for those willing to dedicate the time and effort to do it right, making knives can become a meditative craft. Even if it involves hammering a hot piece of steel for hours on end to forge a blade to shape. Personally, I'd go with the alternative to working hot steel and profile by stock removal.