Author
Alan Richter
Published
March 06, 2019 - 11:00am
A metal blisk or heat exchanger component can certainly be aesthetically pleasing, but those and the vast majority of other machined metal parts serve a practical function first and foremost. The metal parts Chris Bathgate machines don't.
That's because Bathgate is a metal sculptor. "My approach to sculptures is most purely about the engineering involved, using machine work as the creative medium," he said.
Bathgate explained that he started to learn welding while in high school and studied sculpture at art school but became disillusioned and dropped out. He continued to weld sculptures but soon tried another approach. That was 18 years ago.
---

Using handmade tools and automated CNC milling and drilling machines, artist Chris Bathgate crafts complex sculptures. All images courtesy of C. Bathgate
---
"I started dabbling with machining and quickly found it infinitely more fascinating than welding and shaping steel with the torch," Bathgate said. "That led me down the road to learning machining."
Being a struggling artist and with a dearth of low-cost machine tool options, with the possible exception of micromachining centers, Bathgate decided to build his own equipment "using cheaper Chinese iron and off-the-shelf electronics." Even without a mechanical engineering background, he built two milling machines and two lathes over the years, as well as a 3D printer for making fixtures and models.
"As those machines have worn out and broken down, I've substituted them with lower-cost entries," he added.
In addition to a limited budget, Bathgate's shop/studio in the basement of his house in Baltimore has a ceiling height of only 6'6". "Some machine heads go up between the ceiling joints. I'm working in special circumstances for sure," he said, adding that he's looking to move to a ground-level studio.
The selection of workpiece materials Bathgate machines includes aluminum, steel, brass, bronze and copper bought from stock, and he rarely repurposes metal objects. One exception was copper cores from a linear accelerator. "It is oxygen-free copper, which is the absolute softest and gummiest material you will ever cut," he said. "It was difficult to hold without damaging it, and then it was difficult to cut from the standpoint that it was welding onto all my cutters."
While a challenge to machine, Bathgate added that the copper had a nice, deep orange shade after powder coating, which is a process he also learned to perform anddeveloped the equipment for doing.
---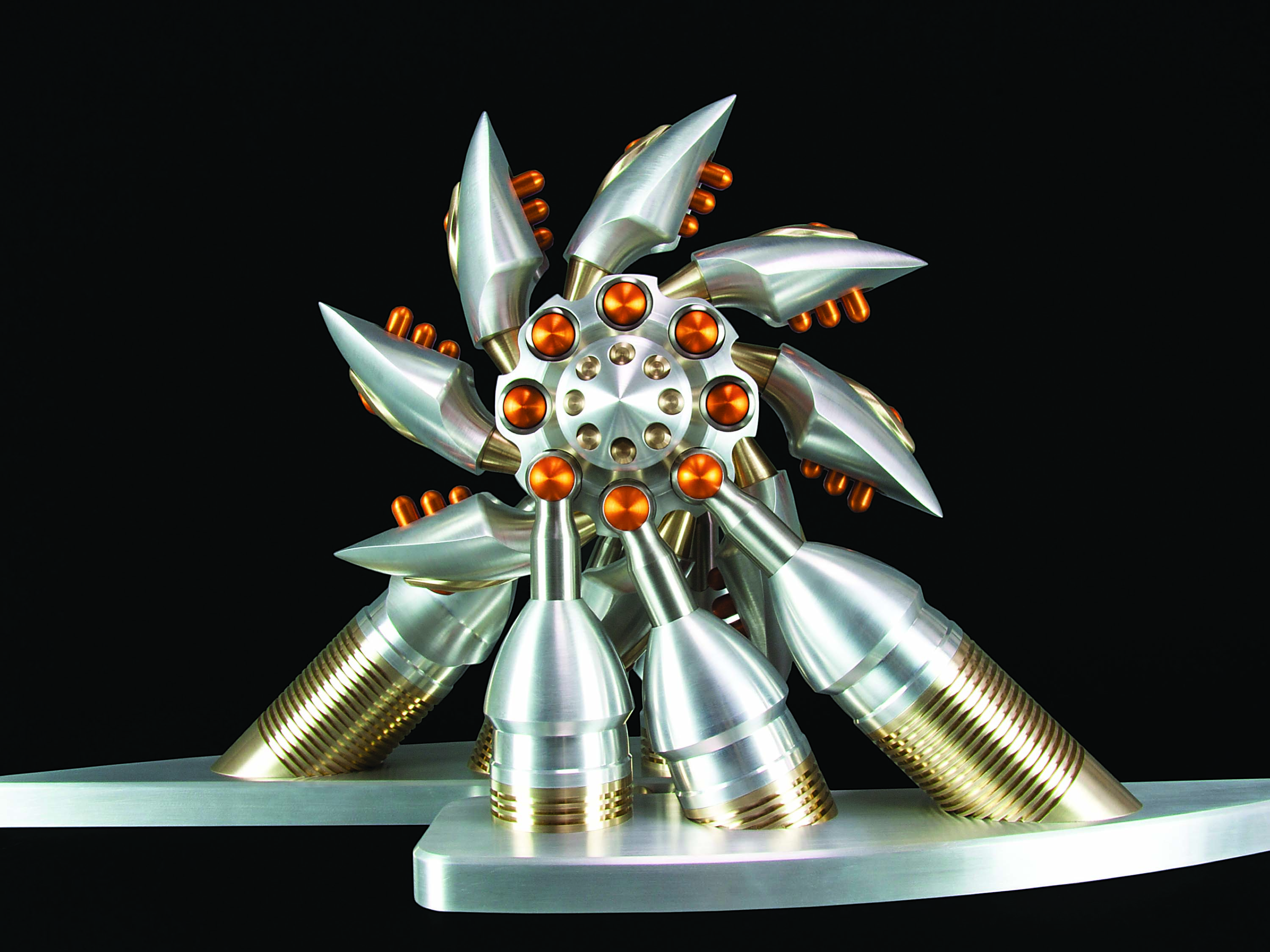 Examples of Chris Bathgate's machined metal sculptures.
---
At first glance, his sculptures look like they would be right at home on the set of "Flash Gordon," but that's not the plan. "I don't intentionally design anything to art deco or raygun gothic aesthetic, but machine work lends itself to it," Bathgate said. "I'm not interested in creating objects that have a fictional back story."
After working primarily in isolation for the first 10 years, he found people with similar interests through social media groups and communities and has occasionally collaborated on projects. Those include face-to-face collaborations working at each other's shop and a project in which the collaboration was strictly via the design process. "I'm pretty picky, and I don't do it very often," he said.
Bathgate is also a bit picky about who purchases his large, one-of-a-kind works, which might require hundreds of hours of machining, finishing and assembly to produce and can sell for upward of $50,000. He is choosy because he sometimes needs to borrow his art for exhibitions. As a result, overseas fans of his work aren't able to buy direct.
For those on a more limited budget, Bathgate sells smaller kinetic art for as low as $200. "I make a lot of small editions these days," he said. "That stuff is highly collectible and in its own separate world." Overall sales are steady enough that he was able to quit his day job seven years ago.
In addition to machining and continuing to learn new techniques and technologies, Bathgate is reaching out to metalworking professionals to help show them how much fun they can have producing something highly engineered that's beautiful for its own sake.
"I feel like a lot of engineers and machinists who would be inclined to experiment with art don't feel like they have permission to," he said. "They have spent their lives making things that are functional and have justification for their existence. Engineers are just wired that way."
For anyone running a machine shop who is seeking an experienced machinist, Bathgate is not that guy. "People have asked me if I would work for a machine shop, and the last thing I would want to do is work in a machine shop all day and make parts that I didn't want to make and do work that I didn't find satisfying and then come home and try to do some creative work with that same process," he said. "It was better to keep those things distinctly separate—the day job versus what I would consider my real work."    
For more information about Chris Bathgate, visit www.chrisbathgate.com . To see Chris in action, view a video presentation about here: https://jwp.io/s/5IvdAWHB