Published
April 14, 2015 - 07:00pm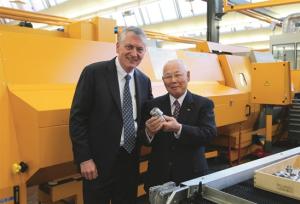 KAISER Precision Tooling Ltd., Rümlang, Switzerland, reports that it has strengthened its long-term partnership, BIG Daishowa Seiki Co. Ltd., Japan, by agreeing to be acquired by the BIG Daishowa group as of April 15.
KAISER Precision Tooling, a supplier of modular boring tools, and BIG Daishowa Seiki, a producer of toolholders and measurement devices, have had a technology and distribution partnership since 1980. BIG Daishowa produces KAISER boring tools under a license agreement and sells under the BIG Kaiser brand name in the Asian market. In June 2003, BIG Daishowa expanded its strategic alliance with KAISER's North American operations and that company was renamed BIG Kaiser Precision Tooling Inc., and is now located in Hoffman Estates, Ill.
"During the past 10 years, our partnership has steadily increased through the creation of two joint ventures in the U.S. and Germany and an exclusive distribution arrangement for BIG products in Europe," said KAISER CEO Peter Elmer. "Today, the distribution channels are practically grown together and the combined products are an excellent portfolio."
Executive management will remain in place following the transaction, with Peter Elmer as CEO leading European operations, and CEO Chris Kaiser overseeing North American operations. The original KAISER facility in Rümlang, Switzerland, will continue to have an integral role in the company's worldwide R&D and manufacturing strategies.
"Our family has been working for some time on a succession plan to ensure the continued growth and success of this company," said Chris Kaiser. "With 35 years of successful collaboration with BIG Daishowa, we are confident KAISER is in the right hands for the future."
The strengthened alliance is expected to help the company balance manufacturing resources and market and currency fluctuations around the globe. Customers will benefit from a consolidated portfolio of tooling solutions and ancillary products, according to the company. Under the new ownership arrangement, BIG Daishowa will have approximately 900 employees.
Related Glossary Terms
boring


boring

Enlarging a hole that already has been drilled or cored. Generally, it is an operation of truing the previously drilled hole with a single-point, lathe-type tool. Boring is essentially internal turning, in that usually a single-point cutting tool forms the internal shape. Some tools are available with two cutting edges to balance cutting forces.