Published
January 18, 2019 - 08:30am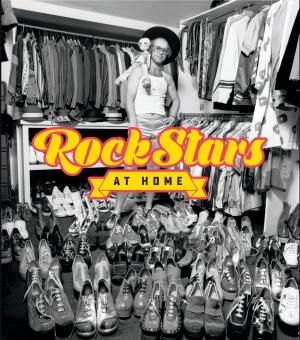 I haven't received any books about manufacturing lately, but a PDF of the new book "Rock Stars at Home" landed in my inbox, so I read it. Written by Chris Charlesworth, Eddi Fiegel, Colin Salter, Daryl Easlea, Bryan Reesman and Simon Spence, the 176-page book from Apollo Publishers peers into the residences—primary and otherwise—of 30 rock and popular music celebrities. These include members of The Beatles, The Rolling Stones, The Who, Frank Sinatra, Freddie Mercury, Elvis Presley, Jimi Hendrix, Michael Jackson and Ike and Tina Turner.
The cribs covered range from opulent mansions to, in the case of Sly Stone after he re-emerged in the public eye, a van. The text, which is accompanied by an ample array of photos of the homes and their occupants, is full of details about the homes' architecture, furnishings, grounds, surrounding neighborhoods and previous owners, as well as happenings that took place in them.
Two such details that caught my attention were Keith Richards' collection of rare books filed using the Dewey decimal library system and the hidden cameras installed in the customer bathrooms at Chuck Berry's Berry Park in St. Charles County, Missouri. In addition to being his home, the park was a rock 'n' roll-themed leisure complex, with a golf course, accommodation, concert stage and guitar-shaped swimming pool. Coincidentally, the one time I saw Berry perform, which was at Chicago's Grant Park, Richards stepped on stage to play guitar with him.
I found the information about what the stars paid for some of their places, the value of those prices in today's dollars and the astronomical figures some are valued at. In one prime example, in 1957, Elvis paid the then princely sum of $100,000 for what would become Graceland—now worth north of $100 million.
In addition to chapters about the homes of specific musicians, the book includes dwelling-related sections, such as rock 'n' roll hotels, tales about recluses, the deaths of stars that occurred at their homes, and the Starship, the first Boeing 720 airplane ever built that was internally modified and leased to rockers in the 1970s.
For those who want to know more about rock stars' private lives, "Rock Stars at Home" provides an insightful, sometimes disturbing but overall fun and breezy read.
Related Glossary Terms
chuck


chuck

Workholding device that affixes to a mill, lathe or drill-press spindle. It holds a tool or workpiece by one end, allowing it to be rotated. May also be fitted to the machine table to hold a workpiece. Two or more adjustable jaws actually hold the tool or part. May be actuated manually, pneumatically, hydraulically or electrically. See collet.

sawing machine ( saw)


sawing machine ( saw)

Machine designed to use a serrated-tooth blade to cut metal or other material. Comes in a wide variety of styles but takes one of four basic forms: hacksaw (a simple, rugged machine that uses a reciprocating motion to part metal or other material); cold or circular saw (powers a circular blade that cuts structural materials); bandsaw (runs an endless band; the two basic types are cutoff and contour band machines, which cut intricate contours and shapes); and abrasive cutoff saw (similar in appearance to the cold saw, but uses an abrasive disc that rotates at high speeds rather than a blade with serrated teeth).