Published
January 23,2022 - 10:15pm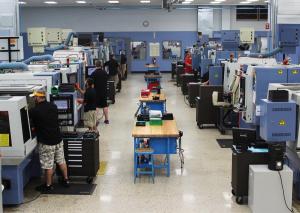 GWS Tool Group in Tavares, Florida, has acquired Carbide Tools Mfg. Inc. This acquisition adds capability and capacity in custom round tools for GWS and further expands the GWS manufacturing footprint in the upper-Midwest region of the United States.
Located in Menomonee Falls, Wisconsin, Carbide Tools Manufacturing Inc. provides high quality special carbide round tools with exceptional customer service. It utilizes state-of-the-art grinding equipment, in-house PVD coating technology and a long-tenured team committed to excellence.
Started in 1992 by president Wayne Riekkoff, Carbide Tools began servicing the greater Milwaukee area manufacturing industries with special carbide round tooling. With a loyal customer following and a consistent commitment to new equipment and technology, CTMI soon expanded their products and services nationwide.
"CTMI has a tremendous reputation for service and ingenuity," said Rick McIntyre, GWS' CEO. "Their experience with round tools and commitment to quality perfectly mirrors that of the GWS organization and will further enhance our capacity to support the round tool segment of our business," McIntyre continued.
"I am very excited for Carbide Tools Manufacturing, Inc. to be joining GWS Tool Group," said Wayne Riekkoff, President of CTMI. "The skill sets of our business could not align more closely with that of GWS. Being able to plug our facility into the GWS engine will undoubtedly increase customer exposure and fuel future growth for years to come."
For more information, visit www.GWSToolGroup.com.
Related Glossary Terms
grinding


grinding

Machining operation in which material is removed from the workpiece by a powered abrasive wheel, stone, belt, paste, sheet, compound, slurry, etc. Takes various forms: surface grinding (creates flat and/or squared surfaces); cylindrical grinding (for external cylindrical and tapered shapes, fillets, undercuts, etc.); centerless grinding; chamfering; thread and form grinding; tool and cutter grinding; offhand grinding; lapping and polishing (grinding with extremely fine grits to create ultrasmooth surfaces); honing; and disc grinding.

physical vapor deposition ( PVD)


physical vapor deposition ( PVD)

Tool-coating process performed at low temperature (500° C), compared to chemical vapor deposition (1,000° C). Employs electric field to generate necessary heat for depositing coating on a tool's surface. See CVD, chemical vapor deposition.