Published
September 27, 2017 - 08:30am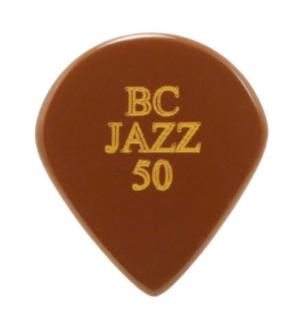 Although picks, or plectra, for playing musical instruments are commonly plastic injection molded or stamped, some are machined.
For example, Machine Control Technologies Inc., Corona, Calif., built a grinding machine for a pick manufacturer to produce picks made of polyether ether ketone (PEEK), said Sam Yu, company president. He added that PEEK is a tough material that won't chip and positively impacts the sound of a stringed instrument.
According to Yu, the unique CNC grinder is equipped with an autoloader. The diamond wheel follows the pick shape and produces a beveled edge on both side of the pick.
After achieving a return on investment after 5 months, the customer purchased a second custom grinder, Yu said.
Other CNC machined picks are available from BlueChip Picks Inc., Knoxville, Tenn. The picks are named after the company's machine shop, Blue Chip Machining Inc., but are not blue. The specially formulated composite material used to create the picks is brown as a result of the complex chemical makeup and the processes it undergoes, the company reports. It added that the material contains special lubricants, which make the picks fast off the strings.
The cost of BlueChip Picks range from $35 to $75 because of the cost of the heat- and wear-resistant material and labor involved to create them, according to the company. The picks are CNC milled, then beveled and polished by hand before being laser-etched.
The numbers on the picks represent thickness measured in thousandths of an inch, such as 35 for 0.035" and 50 for 0.050".
Related Glossary Terms
computer numerical control ( CNC)


computer numerical control ( CNC)

Microprocessor-based controller dedicated to a machine tool that permits the creation or modification of parts. Programmed numerical control activates the machine's servos and spindle drives and controls the various machining operations. See DNC, direct numerical control; NC, numerical control.

grinding


grinding

Machining operation in which material is removed from the workpiece by a powered abrasive wheel, stone, belt, paste, sheet, compound, slurry, etc. Takes various forms: surface grinding (creates flat and/or squared surfaces); cylindrical grinding (for external cylindrical and tapered shapes, fillets, undercuts, etc.); centerless grinding; chamfering; thread and form grinding; tool and cutter grinding; offhand grinding; lapping and polishing (grinding with extremely fine grits to create ultrasmooth surfaces); honing; and disc grinding.

grinding machine


grinding machine

Powers a grinding wheel or other abrasive tool for the purpose of removing metal and finishing workpieces to close tolerances. Provides smooth, square, parallel and accurate workpiece surfaces. When ultrasmooth surfaces and finishes on the order of microns are required, lapping and honing machines (precision grinders that run abrasives with extremely fine, uniform grits) are used. In its "finishing" role, the grinder is perhaps the most widely used machine tool. Various styles are available: bench and pedestal grinders for sharpening lathe bits and drills; surface grinders for producing square, parallel, smooth and accurate parts; cylindrical and centerless grinders; center-hole grinders; form grinders; facemill and endmill grinders; gear-cutting grinders; jig grinders; abrasive belt (backstand, swing-frame, belt-roll) grinders; tool and cutter grinders for sharpening and resharpening cutting tools; carbide grinders; hand-held die grinders; and abrasive cutoff saws.