Published
December 11, 2019 - 01:45pm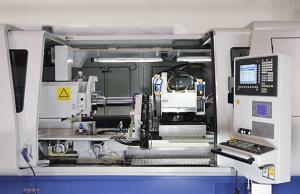 German Machine Tools of America is now the North American distributor of WEMA Glauchau GmbH.
WEMA's internal grinding machines maximize operating times with more efficient and integrated procedures. A repeatedly allocable tool and workpiece headstock are guided on up to six axes with an accuracy of 0.1 μm. WEMA SI is scalable and is adapted to the clients' needs through specific mounting for the greatest machining efficiency. Powerful drives ensure quick availability with additional work and peripheral modules reducing costly non-productive times. Available in four different series (S2I, S3I, S6I and S10I), it offers machining of chuck and shaft-shaped parts. In addition, the internal grinding machines are equipped with internal cylinder/ cone, internal polygons, internal screw threads, up to four applicable grinding tools and high rigidity through the use of cast beds/hydropol beds.
With WEMA SU, universal grinding machines are available for the complex task of three-way machining of all major workpiece sizes. The machines are equipped with external and internal grinding units. Clamping operations provide decisive efficiency and precision benefits. WEMA's technology enables machines to perform highly complex operations, while peripheral modules permit greater flexibility. These machines' features include up to three swivel axes, machining of four sides in one clamping operation, machining of chuck and shaft-shaped parts and external grinding wheels with a maximum diameter of 600 mm. WEMA SU also offers additional features such as four insertable internal grinding tools, four external grinding tools and cones, and polygons.
The company's external grinding machines can machine parts up to 1,500 kg with external lengths of 600 mm in diameter and 2,700 mm. Grinding wheels are available in diameters of 500, 600, and 750 mm. Typical workpieces include railway axles, rollers, pipes and shafts.
Assemblies of the roller bearing grinding machines feature a strict modular structure used for various operations. One is for sequential internal, external and rim machining operations. Another is for simultaneous internal and external machining operations. Other modular structures are used for external machining operations, internal machining operations and rim machining operations. Machining jobs can be carried out on single or multi-row outer rings (OR) and inner rings (IR) of diverse bearing types. Notable features on these WEMA machines include three different types of milling centers (SW3, SW6, SW10), grounding of borings and tracks of inner rings, as well as tracks and outer diameters of outer rings. Outside rings have a diameter of approximately 300 mm to 900 mm. Shoulders, rims and more can also be ground, and different grinding operations can be performed in sequential or simultaneous grinding procedures.
Although the company's grinding machines cover a wide range of possible applications, they also build and design grinding machines to order, ranging from more or less customized adaptations to complete designs of the machine.