Published
April 11, 2016 - 07:00pm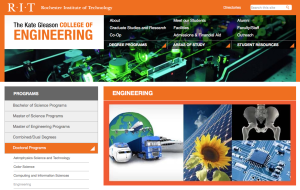 The Gleason Corp., Rochester, N.Y., recently donated $300,000 to establish two doctoral fellowships that will be incorporated into the engineering program at the Kate Gleason College of Engineering at the Rochester Institute of Technology (RIT).
"Gleason and RIT have enjoyed a mutually beneficial and highly valued relationship for over 100 years," said Brian M. Perry, vice president of Rochester operations at The Gleason Works. "As Gleason celebrated its 150th anniversary in 2015, we felt it important to build on our success with RIT and establish these doctoral fellowships."
Gleason employs about 100 RIT alumni at its Rochester plant.
"This fellowship program sponsors valuable research into advanced gear design and systems engineering that will benefit gear producers globally," Perry added. "Gears are used in a wide variety of products across hundreds of different applications. The needs for greater energy efficiency, improved noise characteristics, greater duty cycles and lower costs are key objectives within the research plans."